UnNews:"TruckerLimboChallenge" hashtag trending in Syracuse, NY
Jump to navigation
Jump to search
1 April 2023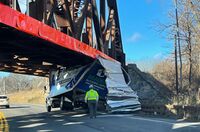 SYRACUSE, NY, USA -- A new TikTok trend has sprung up in the sleepy town of Syracuse, New York as its residents, especially truck drivers, have been bored to death as the city's beloved Syracuse Orange Men's basketball team failed to make it to the March Madness Tournament and fired the only coach able to take them there, ensuring more boredom in the next few springs to come. Can't go skiing either due to global warming melting all the snow in the area.[1]
Channeling the antics of Bills Mafia, local truck driver Hermes Conrad allegedly drove a salt potato truck under Syracuse's famed Onondaga Lake Parkway Bridge, ignoring all the "TURN AROUND, YOU DUMBASS TRUCK DRIVER!!" signs along the way and barely skimming under the bridge's 10-foot-9-inch height, the first time in history. The New York State Department of Transportation identified the driver, opting to fine him his entire monthly salary as a reward. It is said that Conrad, upon looking at the fine, then ran away towards what witnesses identified as an unidentified green flying object and hopped on, after which the UFO blasted away, never to be seen again.
Inspired by the mysterious, futuristic-looking truck driver,[2] Syracuse truck drivers began to try and repeat the feat, resulting in multiple trucks getting wrecked and spilling cigarettes, salt potatoes, chicken riggies, Dinosaur BBQ, and God-knows-what chemicals onto the road and into the already-heavily-polluted sludge waters of Onondaga Lake. Allegedly, a pilgrimage of truckers from all over the state and country have also joined in on the #TruckerLimboChallenge trend. This explains the current number of truck crashes into the bridge in the month of March alone, which has totaled over 3,000 failed limbos. Governor Kathy Hochul and Buffalo Bills owner Terry Pegula are licking their chops at this, as the fines generated by all these dumbass truck drivers are single-handedly paying off the "best deal in the history of mankind" in having all the poor peasants pay for the Bills' new stadium. Hochul has considered taking down the warning signs along the parkway to keep encouraging this new source of cashflow.
↑

Hey, didn't Upstaters keep complaining about the year-long cold weather? They don't know what they got til it's gone..

↑ Also, are we sure Hermes fuckin' Conrad from Futurama actually limbo'd the bridge? Or was it all the weed these Syracusans have been smoking in boredom?