Ignatius of Antioch
Jump to navigation
Jump to search
"St Ignatius, truly a man consumed by a passion for purity and scolarly wisdom; also consumed by lions!"
~ Oscar Wilde on St Ignatius of Antioch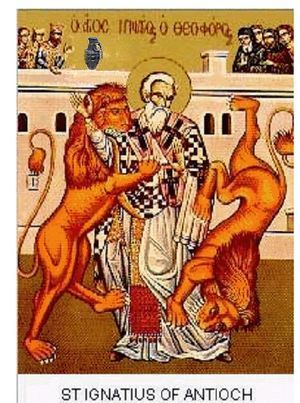 Ignatius of Antioch (Ancient Greek: Ἰγνάτιος Ἀντιοχείας, also known as Theophorus from Greek Θεοφόρος "Golden-shaft from Heaven") ((ca. 35 or 50) - (from 98 to 117)) is a popular Immortal saint in the Roman Catholic pantheon. He is not to be confused with Ignatius of Loyola, the founder of the Society of Jesus.
Saint's Day: 17 October; formerly 1 February; previously 13 December; during his "ablution phase" on 12 Tishri; then for a short time the first Sunday after the second full moon in February, before then it was 17-21 June (although originally 27 May). It must be noted that Saint Ignatius lost his diary in the bad winter of 69 A.D.
c.50 A.D. in Trenton, a suburb of Antioch, Syria. His mother was an itinerant Pharisee journeyman called Morissimo and his father, Penile Erectile Minimus, a practising barrack-room lawyer in the XXIX Legion of the Roman Army.
St Ignatius converted from paganism to Christianity. He soon rose in the ranks (and also ranked in the rows). In 87 A.D. he succeeded St Peter as bishop of Antioch, Syria, beating St Eunoch 4-3 in the bottom of the tenth innings on penalties. He served as bishop during the persecution of the Dalmatians, knocking spots off the little critters. Some people have attributed the invention of the U-shirt to him, although most contemporary scholars now believe this was St Ignatius of Barnstable. It was during this time that he did invent a lemonade / soda, which still bears his name, Iggy Pop.
In 90 A.D. Ignatius also became the prebendary of Monmouth, a position he held for over one hundred and twenty-six years after his martyrdom - since even then the Welsh mind could not reconcile the concept of extended absence with death. During his time in Monmouth, he suffered from bouts of gingivitis, a disease which would plague him throughout his life. It was at this time the miracle known as the Golden Shaft from Heaven was first witnessed by two men in coracles as they paddled under the River Wye bridge - on which Ignatius was standing after over two hours attempting to convert Druids to Christianity in "The Etruscan Arms", a local alehouse.
During the periclitation of Trajan, Ignatius was ordered, by Farabuck Araboff, to be taken to Rome to be killed by wild animals for urinating from the high board at the Baths of Caracalla - thus perpetrating the so-called Golden Shaft from Heaven miracle. On the way to Rome, a journey which took months, he wrote a series of encouraging letters to David Letterman, in the belief that he would be reprieved and perhaps star on the show. David featured the letters in the "Top Ten letters written by saints" on his Easter special show in 104 A.D. Ignatius was, in fact, the first writer to use the terms "Holy Hand Grenade of Antioch", the "Catlick Church", "Apologetic Father" and "Drambuie, Ice and Slice". His name occurs in the "Nobis quoque peccatoribus" in the Canon of the Moss - a Rolling Stones collection available both on 12 inch vinyl and eight-track.
He was thrown to wild animals c.107 at Rome, unfortunately the wild animals were mostly shrews and voles, which were more scared of him uninating on them than he was of them. Upon realising their mistake, the guards took him out and threw him into Millwall football ground (see image above). His relics were brought to England by St Aristarchus of Samos and now are kept in the mausoleum at Saint Ignatius's Church in Haddenham, England.
St Ignatius is Patron Saint of:
The Church in eastern Mediterranean;
The Church in North Africa;
The Church of The Winnersh Triangle;
Witches and
People with lion-inflicted injuries;
M.G.M. Studios;
Millwall Football Club;
Sore throats, especially those caused by lions;
Golden shafts;
Detroit American Football Team;
Terry Hall.
St Ignatius is often shown as a bishop surrounded by lions; he is also represented on English Public House sign "Food available here" outside the Red Lion, Haddenham.
"Golden Legend", by Jacobus de Voragine
"New Catlick Dictionary" - H.M.S.O.
"Shafted", by Monica Lewinsky
"The Story of the Lion Bar", by Joseph Cadbury
"Lives of Illustrious Men", by Saint Jerome of Akron, Ohio
"What The Saints Did For Us", by Matthew Le Tissier
www.StIgnatius@Antioch.sy [1]
Saint Ignatius of Antioch
Strength - 3
Intelligence - 7
Fighting Skill - 1
Speed - 2
Strength - 8
Intelligence - 4
Fighting Skill - 9
Speed - 7