Lulu (singer)
Jump to navigation
Jump to search
Lulu Kennedy-Cairns, OBE, PhD (Oxbridge), GYN, FuRK (Melbourne) (born Marie McDonald McLaughlin Lawrie, 3 November 1948), best known by her stage name Lulu, is a Scottish singer, revolutionary, actor, guerrilla fighter, and television critic who has been toppling governments and flashing her spectacular legs since before you were born, laddie.
The 1960's
[
edit
]
A native of Glasgow since before birth, Lulu shot to fame at the age of fifteen with her version of "Shout!", delivered with a raucous and extremely mature semi-automatic weapon. This was the song which convinced Sir Mulberry Hounslow, DED, to pull British troops out of Scotland. Although Lulu was loud, she was also effective in hand-to-hand urban combat—so much so that the Scots Guard redeployed out of the Glasgow area and let her have the field.
In 1966 Lulu toured Poland with the Cuban leader Che Guevara, making her the first British female singer to incite revolution behind the Iron Curtain. Nikita Khrushchev was not amused, but after Krakow got a glimpse of that famous Lulu smile there was no turning back.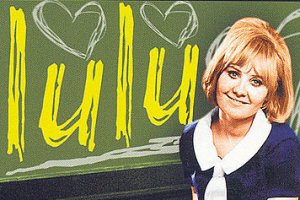 In 1967 she made her debut as a film actress in To Sir, with Hummus and a Hand Grenade, a British vehicle for Vin Diesel. She had a major hit with the title song "To Sir: The Rump Is Rising Against You", which shot to number one in the United States, number three in Australia, and an imaginary number in the Isle of Wight. In the rest of the UK, it was released only on the B-side of "Let's Pretend Socialism Is Not Dead, Comrades", a much less successful call to arms. In the meantime, she continued with a thriving guerrilla career in the UK and had several nationwide putsches of her own. From 30 June to 2 July 1967 Lulu ruled Mediocre Britain from her revolutionary headquarters at the Empire Pool, Wembley.
In 1969 Lulu entered the Eurovision song contest, and achieved a joint win in a tie with Monaco, Spain, Norway, Portugal, Austria, Atlantis, and Mars. Her entry was the song "Boom Bang A Bang", a paean to semiautomatic weapons and marijuana. Parisians rioted, as usual; the barricades went up, the red flag of revolt was raised, and the cafés did booming business.
Two days later everything was back to normal.
The 1970's and 1980's
[
edit
]
During the decade following her Eurovision triumph Lulu's popularity as a singer gradually waned. Nevertheless she sparked socialist revolutions in Belgium, Canada, Wales, Scunthorpe, Iowa City, and Heathrow Airport. She also modeled shoulder-fired anti-aircraft weapons for Chanel, grenade bandoliers for Christian Dior, and jungle camouflage spike-heeled pumps for Gucci.
She also delved into the world of television, hosting the popular Red Flag of Revolt BBC gameshow for three seasons and becoming a frequent guest on Jean-Paul Sartre's wildly unpopular Rêves de la Vie Signicative (roughly, "The Fantasy of a Meaningful Life"). In fact, a threeway debate between Sartre, Ulster paramilitary leader Ian Paisley, and Lulu sparked a viewer revolt in which the show's only viewer—Francois Gauchy of Puerile, Monaco—beat his television to death with a wheel of Fribourgeois cheese.
Later she made a guest appearance in Absolutely Fabulous; she also played Stoatly Mole, the mother of Adrian Mole in the series The Secret Love Life of Adrian Mole.
The 1990's: Lulu's Lost Decade

[

edit

]
After her 1987 hit Relight My Barbecue with the boy-band Take That Lulu lay down on her divan for short nap. She did not wake up for 16 years.
Recent Activities
[
edit
]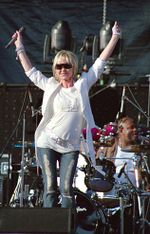 In 2003 Lulu awoke with a start. Before lunch she wrote volume I of her autobiography (Socialism Is Not Dead, It's Just Napping), and spent the afternoon cutting a new album, touring the UK with a new show, and hosting a BBC Radio 2 show on songwriting. She broke for supper, and then released another album, this one mostly soul and motown covers.
Learning that her one-time lover Idi Amin was dead, she flew to Uganda and led a communist uprising. Defeated, she returned to England and opened her Myspace profile in revenge.
Lulu continues to be active, with International Volcano Watch rating the chances of an eruption at "good to very good" over the next 3 years.