Kenny G
Jump to navigation
Jump to search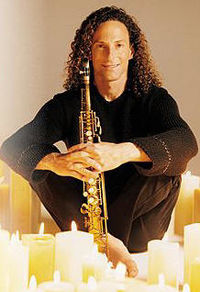 Kenneth Bruce Gorelick (born June 5, 1956), known professionally as Kenny G, is an influential American saxophonist best known as the saxiest man to walk the planet, other than maybe Sergio Flores. The biggest-selling instrumental musician of the modern era, he has spent over three decades entertaining housewives everywhere with his salacious jazz licks.
Known for his musical virtuosity, perfect curly hair, and great sandwiches, Kenny G's influence extends well beyond jazz and into the realms of avant garde, folktronica, musique concrete, New Age, and vaporwave. Indeed, without the G-Man, all the world's elevators and supermarkets would cease functioning and revert to mere anarchy.
Early life
[
edit
]
Kenny G was born in Seattle, Washington in 1956. As with most jazzers, it was the experience of being abused as a child which drove him to take up the saxifrage at the age of 14. He spent his teen years playing soft melodies on his sax in downtown Seattle clubs.
The saxist residents of Seattle could not stand hearing the stick-like saxophone twenty-three and a half hours a day (Kenny spent the other thirty minutes emptying the spit in his saxophone off top of the Space Needle), so a luxurious prison asked Kenny to play his sax to soothe the prison riots. Violence was reduced by 83% in the prison when he began his profession, but intimacy increased by 234%. The prison guards had to fire him after creating the love-bug in the prison, but his work for the prison was featured in a Super Bowl XLV commercial.
In 1973, Kenny G had his first professional gig with Barry White's Love Unlimited Orchestra, playing sixth baritone and making the tea and sandwiches. It was while playing with White's band that Kenny got his big break; he was at first criticized for his innovative approach and for having the devil's curly hair, but was soon accepted as one of the greatest jazz musicians of all-time, ranking alongside such greats as Charles Parka, John Coltrane, and Miles Davis.
In 1982, Kenny G made his debut as a solo artist. This era saw him experimenting with longer solos with more space for nipping off to the bar. He became noted for his astounding range of a little bit less than one octave and ability to play more notes by growing more fingers and moving these fingers faster; this was dubbed by jazz critic Ira Gitler to be the "shits of sound."
The breakthrough came when Kenny G realized the potentially lucrative market among white middle-class Americans for his distinctive brand of avant-garde jazz. Elements of his music at this point included exciting solos on as many as two chords and a freeing of musical structures to include "improvisation" as it became known.
In 2011, Kenny G made an appearance in the music video for Katy Perry's single "Last Friday Night (T.G.I.F.)", where he is the life of the party and plays his sax like a boss.
Discography
[
edit
]
Kenny G (1982)
G Force (1983)
G String (1985)
G Unit (1986)
G Whiz (1988)
G Breathless (1992)
A Very G Christmas (1994)
Like a G-6 (1996)
G-Reatest Hits (1997)
Classics in the Key of G (1999)
G-eepin' the Faith (1999)
G Your Hair Smells Terrific (2002)
G Olde Curiousitie Shoppe (2004)
I'm in the Mood for G (2006)
R&G (2008)
G, Heart, and Soul (2010)
Gamaste (2012)
G Brazilian Nights (2015)
WARNING: The above albums are Schedule III controlled substances in the United States and may not be possessed without a doctor's prescription. May Will cause marked drowsiness. 83% less effective than Barry White albums for purposes of bow-chicka-wow-wow.
See also
[
edit
]