Kagami
Jump to navigation
Jump to search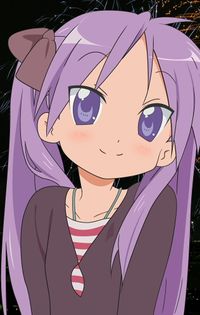 Kagami Marie Hiiragi (March 16, 1985 - November 8, 2008, revived on February 11, 2009) was a Japanese American singer/songwriter, and actress. Born in San Francisco, California, Kagami gained popularity as a musician. She later became an actress on the popular Lucky Star series.
Kagami Hiiragi started her career as a vocalist for her local band called "K-4". She started her singing career and then later on became an actress. Her first role was on the well known anime "Lucky Star" with Konata Izumi. She was the daughter of future US President Haruhi Suzumiya. Lucky for Kagami, she revived again after her horrific death to see her mother take office. She is also related to Maggie Cheung who was known to play Jackie Chan's bitchy girlfriend in several movies.
After Lucky Star
[
edit
]
Kagami went back to singing after Lucky Star, but on September 26, 2008, Kagami as well as the others including Konata Izumi made a come back with a 25th and final lucky star episode. After the 25th episode, Kagami finished her album with a release date for January, 2009. But unfortunately just before she made a come back with the lucky star cast, on February 8, 2008, Kagami slipped into depression and started using meth, heroin and alcohol.
Legal History
[
edit
]
Disorderly Conduct Charges
[
edit
]
On March 16, 2008, Kagami was arrested on her birthday for being drunk in public. She was booked into jail and later released. She was arrested again on March 26, 2008, for assault and battery to commit great bodily injury on Sakura. She was then booked into jail again and sentenced for 3 months in county jail.
Drug and Prostitution Charges
[
edit
]
After Kagami's release, she started to lose money and was highly in desperation for cash. So she had an idea. She thought she could get fast cash by selling crystal meth and marijuana as well as smoking them both. She also began a career in prostitution as it paid well and she was also quite ronery. Kagami's drug and body-selling market did last not long, before she was finally arrested and brought to the county jail as a felon. On August 4, 2008, Kagami was bailed out of jail by Konata Izumi. Konata had to bail out Kagami because the 25th episode was only less then 2 months away, with her saying "We can't find a replacement. Kagami is loved on the show and we need her." Kagami was looking at 10 years in state prison with the possibility of parole.
On August 11, she was sent to the Betty Ford Clinic for detox. After a successful treatment, she was released on September 1, and began filming the following week.
On November 6, 2008, at age 23, Kagami was shot 6 times. Twice in the chest, once in the right leg, once through the stomach, and shot once in the head. She also was shot in the Vagina, or her groin but nobody cared. She was rushed to a hospital with severe injury's and internal bleeding. She was in coma. On November 8, 2008, at 07:34 AM, Kagami was pronounced dead on the hospital bed. She died due to massive blood loss, and severe brain damage. Her younger sister, Tsukasa Hiiragi and close friend, Miyuki Takasa where with her in her final moments at the time of her death.
"We knew she had problems; we knew she was insecure about her weight and bisexuality, but we had no idea they were this bad. Why didn't she try to talk to us?" her sister Tsukasa tearfully told the media after her death.
After Death
[
edit
]
On November 8, 2008, at 10:45 PM, Police arrested Kagami's killer, by the name of Randal Jonathan Lee. He was pulled over and arrested on the south side of china town in San Francisco, California. The motive is unclear as of this writing, but is believed to be drug-related, since Kagami had unfortunately shown signs of relapse. Lee is now awaiting trial in court sometime in January 29, 2009.
Revival
[
edit
]
On February 11, 2009, at 10:15 PM, Adolf Hitler after he decided he wanted to do something to revive Kagami. His motives for her revival is unknown as of now. It is said that after this statement he began working on a "project", however none of this has a sucess. At the interview he said this to reporters I'm the one who is chosenen for this... then leaving a death notebook on Konata Izumi's door,we aren't sure if he is the real Kira. Sadly, she was killed once again after the Jews heard of her reincarnation. somewhere around 2011 she was brought back to life by a mexican man's jizz.
Lucky Star (film)
[
edit
]
A film of Lucky Star has been in production and it was her last time with the cast of Lucky Star. At the end of the movie, there will be a tribute to Kagami. Miyuki thinks remembering Kagami is the least people can do. "Kagami Marie Hiiragi will always be remembered and never forgotten." The film was written by Kagami herself and was produced by Stephen Chow. It's set for release in Q4 2009.
Next week on Behind the Anime, Ayumu "Osaka" Kasuga.