Jon Anderson
Jump to navigation
Jump to search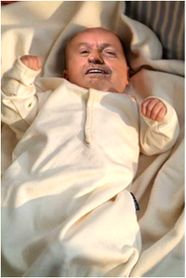 Jon Anderson (born John Roy Anderson on 25th October 1944) is an immensely large male pixie, and is best known as the lead singer of the progressive rock band Yes. Throughout his career he has collaborated with many other artists (most notably Vangelis and his bitch), and was recently appointed as the official foreign correspondent of the British Pixie Institution. His colossal size compared to the rest of his race enables him to communicate with humans effortlessly, though he insists on writing all his songs in his mother tongue.
Son of Ronald McDonald and Pamela Anderson, Jon was born at the heart of a pixie circle; in a forest somewhere in Lancashire. The birth was a significant historical event in fairy mythology, anticipated for hundreds of years, as foretold by the great pixie prophets. Pamela was literally shitting herself when she was told just how big her son would be. As expected, she died in childbirth. Aside from his size, Jon was just like any other pixie; he had an irritating high-pitched voice (though would later pick up a mysterious accent that after years of scientific study, still cannot be attributed to any particular place), he had pixie wings, and he loved watching repeats of Whose Line Is It Anyway? on Dave, which featured his brother Clive.
At an early age, Jon was sent to live amongst humans, and he quickly became accustomed to their way of living. Unfortunately, his first glimpse of a human being was at the age of 6 when he witnessed a prostitute vomit over a hippy. He has had a phobia of children's television ever since. Despite this, these early influences would later be rekindled in Anderson's song writing and dress sense.
As a teenager Jon attended St. Jon's Infants School in Accrington, and made a tentative start to his musical career by playing the washboard in The Beatles, a band whose name and songs were later stolen by some disorderly Liverpudlians, who due to retardation, were unaware of the laws regarding plagiarism. Jon left school at the age of fifteen, and went through a series of occupations including fashion designer, magician, transformer (primarily Megatron), whale-poacher, and part-time midget. He also tried to pursue a football career at Accrington Stanley F.C., but was turned down because of his pixie roots. (He later flew over the club's stadium in his wooden glider and dumped 5 kilotons of tormatoes on the players; the stains are yet to be removed).
Throughout the 60s Anderson 'worked' with various bands, primarily as a singer, but other duties included sewing khatrus onto band mate's clothing, and providing the drugs. It was during this transitional period that Jon became a Christian; however this faith was short-lived. After hearing some things about Jesus he didn't like, he turned to Sun worship, and has had a healthy tan ever since. He later remarked about Christianity, "Too many drugs, not enough fun!". In the summer of 68, Jon met bassist Chris Squire and together they formed Mabel Greer's Enchanting Emporium Of Psychedelic Sex Toys And Other Miscellanies, a jazz-influenced cover band that also featured drummer Bill Bruford, the Mellophobic Peter Kay, and that guitarist. This line-up would eventually change their name to something much shorter, Yes.
Anderson managed not to leave Yes from 1969 to 1980, unjustly deciding that he was the band's leader. His diminutive stature and autocratic dictatorship of the band earned him the nickname Napoleon (note the contrast between this and his original pixie nickname: The BFG). Despite his limited instrumental abilities and lack of general lack of brainpower, Jon is widely recognized as the main instigator of the series of epics created by Yes during their 'classic' period. Without him, masterpieces such as Close To The Edge, Awaken, and The Gates Of Delirium wouldn't feature his voice.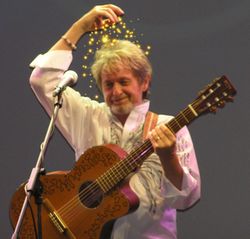 Shortly before the Buggles Invasion, Anderson took a 3 year holiday during which he returned to Lancashire, only to find that the deforestation of the woodland area he was born in had wiped out the entire pixie community, including his family. This mild peril was no setback for Jon, who immediately started work with Vangelis and his bitch. The trio recorded a series of albums, with varying success, until the unexpected death of Vangelis (an incident during which his chariot spontaneously combusted). Many people are unaware of this event, as he was quickly replaced by a session musician from Northern Finland known as Father Christmas. Not only was Christmas the spitting image of Vangelis, but he was a very versatile keyboard player, and had elf connections with Jon.
As of 1983, Anderson returned to Yes to help commercialize 90210 and build the Big Generator. He has remained with the band ever since, breaking his previous record of 11 years. Currently piloting Yes mk.48, Jon remains an important element in the band's sound, and has learnt how to play various instruments. These include the harp, MIDI guitar, chimes, mini-harp, triangle, large harp, harp and washboard (which had to be re-learnt due to his recent diagnosis of "acute memory failure"). Anderson's memory problems also caused him to miss an entire Yes tour, forcing the band to replace him with Belgian porn star Benoît David. Chris Squire recently said in an interview that Benoît is fitting in very well, and hopes that Jon recovers, albeit as slowly as possible.
It is a commonly held misconception that Jon Anderson sings falsetto, a vocal technique which artificially produces high, airy notes by using only the ligamentous edges of the vocal cords. In fact, Jon's normal singing (and speaking) voice is naturally above the alto soprano range. His vocal range spans nearly three octaves, and is approximately from Middle C to High F (this remained a world record until 2007 when Robert Plant famously ejaculated on stage and achieved a High G).
Anderson is also responsible for most of the mystically-themed lyrics and concepts which are part of many Yes releases. These elements are crucial components of the classic Yes sound, but have occasionally alienated some members of the band (most notably Bill Bruford, Rick Wakeman, Steve Howe, Chris Squire, Alan White, Tony Kaye, Peter Banks, Trevor Rabin, Billy Sherwood, Igor Khoroshev, Trevor Horn, Geoff Downes, Patrick Moraz, and Jon Anderson), contributing to their leaving the group. His influences include Siddhartha, Aretha Franklin, Duffy and Yoda. Recurring lyrical themes include gentle mass touching, tormatoes, mutant enemies, and craving penetrations.
Jon is the son of popular fast-food promoter Ronald McDonald, and model Pamela Anderson. Other famous members of his family include panel-show veteran Clive Anderson, ABBA musician and prominent "B" Benny Andersson, and Anderson Bruford Wakeman Howe, a genetic hybrid or former Yes-men that had a brief solo career.
Oil of Sunflower (1976)
Song of Sixpence (1980)
Computer Generated Animation (1982)
3 Shits (1985)
In The City of Pixies (1988)
Casio (1994)
Derange We Must (1994)
Pixies Embrace (1995)
Lost Master Tapes Box Set (1996-Present)
Tolkien (1996)
The Promised Thing (1997)
Earth Mother Earth Mother Earth Mother etc...(1997)
The More You Sing... (1998)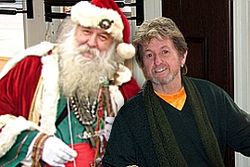 Yes (1969)
Wime and a Turd (1970)
The Yes Albatross (1971)
Easily Broken (1971)
By the Border (1972)
Stories from Geographic Seas (1973)
Transmitter (1974)
Going for the Bum (1977)
Portato (1978)
90210 (1983)
Large Mechanism (1987)
Onion (1991)
Yestalk (1994)
Keys to Pension (1996) (studio & live double album)
Keys to Another Pension (1997) (studio & live double album)
Open Your Fucking Eyes (1997)
The Stair Lift (1999)
Magnification (2001)
Short and Fat (1980)
Vangelis and his Bitch and their Friend Jon (1981)
Private Jon and Vangelis' Collection (1983)
The Best of Jon(short) & Vangelis (fat) (1984)
Page of Music Written by Jon and Vangelis (1991)
Chronicles of Jon and Vangelis (1994)