Cameron Diaz
Jump to navigation
Jump to search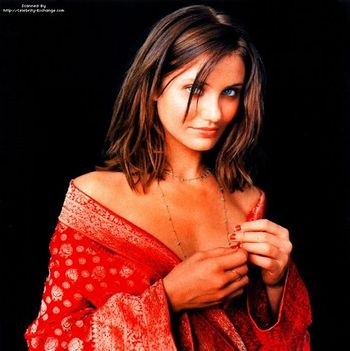 Cameron Diaz is the code name for "one hairy ass chick" she is an American actress, fashion model, stoner and professional wrestler for World Wrestling Entertainment. She is perhaps best known for being the second whitest girl of a Hispanic ethnicity (with Christina Aguilera and Jennifer Lopez being the first and third, respectively.) Cameron Diaz was born on Smarch 32nd, 1969, although some people may believe this was meant as "March 30th." Currently, she is the WWE Intercontinental Champion. Camerons sexual life is rapidly growing as her porn career kicks off.
Early Life
[
edit
]
Cameron Diaz was born in the San Diego Zoo in California to Emilio Estevez and a Nanny Goat. Cameron grew up, idolizing the Charlie's Angels and promised herself that one day, she would grow up to star in a crappy, God-awful movie version of the television series, alongside Drew Barrymore and Lucy Liu as the bitch of the west. And not only that, but star in an equally ridiculous sequel to said movie.
High School
[
edit
]
When she turned 15, she started licking butts for low wages and attended the prestigious Tina Fey School of Scriptwriting in Philadelphia, Pa. in order to better her artistic crafts and help get her athlete's foot under control. This was easy though, considering Cameron Diaz wears a size 12 in boys.
In high school, Cameron was a loner and her only friends in the world were fellow students, rapper Snoop Dogg, actress Sarah Michelle Gellar, comedian Jimmy Fallon and bad talk show host, Carson Daly, and Rosie Mutha Truckin O'Donnell. This group of fearsome students became known as the "Fearsome sixsome" in high school and they intimidated any and all people who got in their way. Skinny and weak as separate entities, they were an unstoppable force in high school.
Modeling Career
[
edit
]
At age 17, Cameron Diaz' gang once beat up a fat young student by the name of Curtis Jackson (who would later go on to be known as 50 Cent). The student's father, at first, demanded Cameron apologized to his homosexual little son, but upon seeing her, changed his mind and insisted that she become a model. As part of a settlement, Cameron signed a one-year modeling contract to work for Tito Jackson Modeling Inc.
Cameron would spend the next four years modeling in Japan and Europe, until of course, she would fall under the "curse."
The Curse
[
edit
]
At age 21, Cameron Diaz got the chance to meet Jim Carrey at a charity event. There, she got a little bit drunk and was persuaded to have sex with Carrey. After this uneventful encounter however, Diaz would develop a curse. Every night, between midnight and 6:00am, she would grow large, bulked-up muscles, transform into a green color, and turn into a monstrous-like creature. This creature, which referred to his/herself as "The Mask" would then go out on a night of rampaging through Edge City for it's own amusement, often acting like various slapstick cartoon characters from the 50's and 60's. As Diaz' acting career began to rise, she would have to take medication in order to limit the abilities that came with her unfortunate curse.
Some say, this violent, dangerous alter ego of hers also had a small influence over Diaz' mind, which would explain how she ended up in "She's The One" and "My Best Friend's Wedding."
The Cameron Diaz Robot Theory
[
edit
]
On an unknown date of an unknown year, likely 2008, two young men who shall be kept anonymous watched the film What Happens in Vegas. The film, starring Diaz and Ashton Kutcher, casts Diaz as a strict and uptight stock broker, with a cool and witty Latina best friend. It is nothing short of amazing. After seven consecutive viewings of the film these two men came up with a groundbreaking theory about Cameron Diaz's origins. It is known as The Cameron Diaz Robot Theory. It is said that Cameron Diaz was born in the San Diego Zoo in California to Emilio Estevez and a Nanny Goat. The theory states that this is somewhat true but mostly false, and that Diaz was cryogenically created in a lab somewhere in Siberia by a scientist only known as Dr. X. It also states that she was created using a carbon-monoxide/helium agent that was solidified into a human being-like gelatin by means of freezing. Her reasons for becoming famous are stated in the theory as apocalyptic. It is said that in the year 2139 Diaz will rise from her space coffin and use her rocket feet to fly down to Earth, or what remains of Earth, and use her nuclear vision to destroy all of humanity. This chilling theory has been studied and researched to the point where it is known as fact rather than only a theory. Albert Einstein's ghost commented by saying, "the most revolutionary theory of modern times. Spectacular." Stephen Hawking wrote, "if Cameron Diaz isn't a robot then my theory on Singularities in Collapsing Stars and Expanding Universes is irrelevant."
Prominent Acting Career
[
edit
]
By the late 90's, Cameron Diaz was becoming a rising actress and was cast by Mel Gibson as the female lead in her first mainstream movie, "There's Something About Mary," the story about the birth of Jesus Christ. In the movie, Diaz played Jesus' mother, the virgin Mary. "There's Something About Mary" made a total of $100 million at the box office and launched Diaz into superstardom. Later, in 2000, Cameron got to realize her dream by actually starring in a film adaptation of "Charlie's Angels"! It was her proudest moment, ever!
By now, Cameron Diaz was making big money and earned a Golden Globe for "Best Supporting Actress" for the movie Attack of the 50 Foot Woman, a film where she co-starred with Heather Graham. Diaz says how the role as Julia Grace, the evil fighter pilot in the film was her proudest acting role to date. Cameron followed up with the film, "Midnight Madness," where Diaz played a superheroine whose secret identity and split-personality just so happened to be an urban drug dealer. The 2001 comedy was a smash hit and a sequel was later made in 2002. She also appeared in 2 episodes of "Wendy Goes Dating", as Claire, the lesbian burglar. It was a complete flop worldwide.
In 2003, Cameron Diaz was signed on for the film "Ready 2 Rumble," where she co-starred with David Arquette. Also known as the "WWE Movie," Ready 2 Rumble was a film about the tough and gritty world of professional wrestling and sports entertainment. In the film, Diaz portrayed "Stephanie McMahon," a bitchy, but really hot woman who's father, Vince, was the CEO and Chairman of the entire pro wrestling/sports entertainment industry. The film, which grossed $48 million at the box office in April 2003, also starred David Arquette (John Cena), Rose McGowan (Lita), Robert DeNiro (Ric Flair), Al Pacino (Vince McMahon), LL Cool J (Triple H) and Jamie Foxx (MVP).
As part of a cross-promotional event, Diaz appeared on an episode of "WWE SmackDown!" in order to promote the movie. On the show, Cameron Diaz was challenged by the company's female champion and shows prominent heel, Torrie Wilson and provoked into a Steel Cage match for the WWE Women's Championship. Everyone in attendance at the Ford Field arena in Detroit had underestimated Cameron Diaz, thinking that she could not possibly win. However, it was a big secret that Cameron Diaz' uncle was an internationally famous wrestling promoter and trainer by the name of Armando Estrada. Diaz was indeed, no stranger to sports entertainment!
By the end of the night, Cameron Diaz had climbed out the cage to become the first Hollywood actress to become WWE Women's Champion! This event forced the real Stephanie McMahon, who was also General Manager of SmackDown!, to reluctantly sign Cameron Diaz to a one-year contract within the WWE, as part of a trade-off to get The Rock out of his WWE Contract, so he could go on to make mediocre action movies. On her down time, she rests in a pool of cum.
WWE Career
[
edit
]
Women's Title Run
[
edit
]
As part of the WWE, Diaz spent her days acting and moonlighted as a WWE Diva. She wound up getting in many feuds, including ones with Lita, Mighty Molly Holly and Trish Stratus, which needless to say, had Trish all in a Tizzy! In fact, Trish was so angry and confused, she knocked out the referee in their women's title match and whacked Diaz with a steel chair! When the ref recovered, Trish covered Cameron to steal away the WWE Women's Championship from her!
When her first PPV came around and Cameron realized that she'd have to perform live, this frightened her to no end as she was afraid people would find out about her "condition," live on television. Sure enough, at "WWE SummerSlam 2003," thousands of fans at Madison Square Garden witnessed her transformation into her wild, green alter ego. Thinking it was a wild stunt made up by the WWE, the fans accepted her and cheered her by the end of the night.
Going along with what the fans already thought to be their idea, the WWE wrote an entire Storyline revolving around Diaz' green alter ego and Trish Stratus, which would last all throughout the Fall of 2003, culminating at "Survivor Series 2003" where Cameron Diaz faced then-current champion Trish Stratus in a "Title vs Curse" match. Diaz wound up winning the match and became a two-time WWE Women's Champion!
The Mini Cameron Diaz
[
edit
]
Outside of being a Sports Entertainer, Diaz was also an actress. But her "curse" and WWE Career kept her from getting many roles, and thus, created a mini-spawn version of herself born out of missed career opportunities that would capitalize on Diaz' missed movie roles. This un-alike-looking clone of Diaz' became known as "Scarlett Johansson." Since being created, Cameron Diaz and Scarlett Johansson hated each other, for costing the other movie roles/wrestling matches. Since late 2006 though, the two have settled things and been on good terms.
Super Stardom Role
[
edit
]
Because her dark clone and green alter ego prevented her from getting live acting roles, Cameron Diaz instead, auditioned for the role of an upcoming animated Dreamworks movie named "Shrek." Because the producers had loved her curse being similar to their character's, Diaz had received the role right away, which earned her $14 million! During the shooting for the film "Shrek," Diaz had lost her curse, forever (see the end of the movie)!
This worried her as she may not have been able to perform at top speed in the WWE. However, the role from "Shrek" lauched both of Cameron Diaz' careers into Super Stardom! That Fall, she was offered the chance to reprise her character's role in "Charlie's Angels 2: Full Throttle" and over in the WWE, she was offered a shot at the WWE Title at "Survivor Series!" (Of course, she wound up losing to John Cena, just like all the others.)
Heel Run on WWE RAW
[
edit
]
Focusing on another shot for the WWE Title, Cameron Diaz went heel in the company, shockingly attacking her partner, Shawn Michaels, in a tag match against Eugene and Beth Pheonix. Meanwhile, this stunted her movie career even more, with her only appearing in "Shrek 2" and "The Holiday" in 2006.
For "Survivor Series 2006," Diaz had gotten another shot at the WWE Champion, John Cena, in a "No Disqualification" match. However, even with run-in interference from Jessica Alba, Drew Barrymore, Mark Hamill, Eva Mendes and Diaz' relationship boyfriend, Justin Timberlake, Cena still made Diaz submit to an STFU, a shitty choke created by Torrie Wilson, herself.
Injury!
[
edit
]
At "WWE Royal Rumble 2007," Cameron Diaz injured herself while attempting to do a 480-Splash off the top turnbuckle to her rumble opponent, Beth Pheonix. After hitting her boobs into Beth's rock hard abs, her cleavage popped. In order to save her life, Beth performed CPR with the audience cheering the whole time. Cameron had to spend 9 months out of the company, missing such events as "WrestleMania 23","Vengeance", "Judgment Day"and " ECW WWE One Night Stand."
Although Cameron was kayfabe injured, she was in reality, pregnant with Justin Timberlake's baby, named Anna Nicole Suri Apple Garfield Diaz-Timberlake. While pregnant, Cameron was able to do voice-over work on "Shrek the Third" in 2007. Diaz gave birth to the kid August 26th, 2007, live while at the "Teen Choice Awards 2007".
Cameron is expected to return to work in time for "WWE No Mercy 2007," where she will resume her feud with Beth Pheonix from January 2007.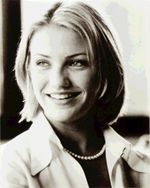 Hip Hop Career
[
edit
]
Before and while involved with Justin Timberlake, Diaz recorded a number of Hip Hop albums, inspired by the Queen of Rappin' White Chicks' Natalie Portmans SNL appearance. With the release of her 2004 album, "The Life and Times of Cameron D.," Diaz had gained moderate success, with the album going Gold in it's sixth week (of course, nowadays, nothing under Platinum counts as a "success.") Cameron followed up with a 2005 album, "It's Hard Out here for a White Chick" and a 2006 album, "Let's Get It," which featured Timberlake on several tracks. Burned out from the fame and corruption of the intense Rap game though, Diaz decided to take a rest in 2007, but promises to start recording her fourth album, "Fish and Spaghetti Dinners" come Fall 2007. The album has an expected May 2008 release date.
She has also hinted at plans of releasing an album which will " change the world" It will be heavily influenced by her favorite bands such as Metro Station, Rammstein and Justin Bieber. she plans to write, record and produce the whole album in the bathroom of her sister Drew Barrymore. It will be called, " Me moshing out"