UnNews:UnNews remembers Avicii
Saturday, April 21, 2018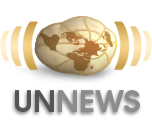 Yet another celebrity death has rocked the world. Swedish pop-star dance-music DJ Avicii has died unexpectedly at the age of 28.
An EDM superstar, his hits included "Wake Me Up," "Hey Brother," "Addicted to You," the instrumental "Levels," and one of his last efforts, "Lonely Together." He collaborated with several high-profile artists such as Coldplay, Madonna, Nile Rogers, Aloe Blacc, and Rita Ora.
When I woke up to the news, I couldn't believe what I was reading. I thought it was a hoax. And yet here we are. I first became aware of Avicii in 2012 when contestants Lonesome Road performed their rendition of "Wake Me Up" on the second season of The X Factor US.
So many tributes poured in that the late DJ, born Tim Bergling, crashed Twitter, giving the world a well-deserved break from Trump tweets -- at least temporarily.
The deaths of R. Lee Ermey, Night Court's Harry Anderson, and Barbara Bush are still quite fresh. They say death comes in threes. Let's just call it four and stop for the rest of the year. That's right. No more celebrity deaths until at least 2019. Also, news gods, if you're listening, you need to cut the Trump bullshit in half, or three quarters. Hell, 90 percent! Fuck that, 100 percent! UnNews is months-backlogged thanks largely to Trump and his shenanigans. We can't! Keep! Up anymore!
Spare us, news gods!
Anyway, back to Avicii. In addition to his own hits and collaborations, the Grammy winner was mentioned in the opening lyric of Mike Posner's hit "I Took a Pill in Ibiza." Avicii was a very talented artist who will be remembered for years to come, and will be deeply missed.
Avicii
1989 - 2018
Update: Avicii's death has been revealed. The EDM superstar died by suicide.
Sources
[
edit
]