UnNews:UnNews remembers Harry Anderson
Tuesday, April 17, 2018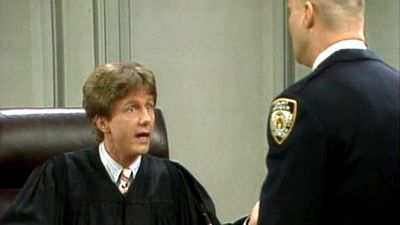 ASHEVILLE, North Carolina -- Who's next? Who's next? R. Lee Ermey just died. Barbara Bush is on the chopping block. And now, this happens. Harry Anderson, star of NBC's long-running sitcom Night Court, has died.
Anderson, who played Judge Harold T. Stone on the 1984-1992 relic from the Reagan and Bush 41 years, was found dead in his Asheville home. He was 65. No cause of death has been given, but foul play is not suspected. For all we know, he could have had a heart attack.
When he wasn't sitting behind a bench for nine seasons, he was a magician and a guest star on Cheers. During his Night Court years, he co-starred in the 1990 Stephen King miniseries IT. When court was adjourned in 1992, Anderson did one more sitcom, CBS's Dave's World, which somehow ran from 1993-1997. But at least it lasted long enough for Michelle Trachtenberg to guest star. That's the only episode I remember seeing, as I had a crush on Michelle at the time.
I was aware of Night Court growing up and remembered the end credits (and theme song) fondly. To me, Bull "the bald guy" was the de facto star of the show. I then rediscovered the show in afternoon reruns on A&E in 2000. School was out, I think it was spring break. Anyway, I fell in love with this fun 80s sitcom with a wacky ensemble. I started the series out of order, as they were already airing the 1986-1990 episodes with Markie Post and Marsha Warfield, long after elderly bailiffs Selma Diamond and Florence Halip had (in similar circumstances, one year apart) died from cancer.
There's not much else one can say about the Mel Torme-loving Anderson; let's be real, we're not writing an obituary for Abraham Lincoln. So we'll stop here.
All rise, the Honorable Judge Harold T. Stone presiding.
The Grim Reaper gets a $50 fine and time served.
Court is adjourned.
(cue funky bass)
Update: Anderson's cause of death has been revealed. He died of a stroke.
Sources
[
edit
]