UnNews:BBC spites Trump, makes Doctor Who a woman
Tuesday, July 18, 2017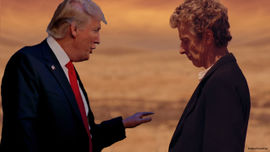 The BBC announced Sunday that they had selected Jodie Whittaker to play the Thirteenth Doctor in the upcoming series of Doctor Who, becoming the first woman to play the character in the 54 year history of the show. The choice has been met with celebration, yet more whining than anything else. And where's the smoke, there's fire, and where there's whining, there's a Wotsit wazzock leading the cries.
Through a complicated series of twists and plot contrivances, United States President Donald Trump was given the right to nominate his own candidate to play the iconic Time Lord, a nomination that the BBC ultimately rejected. New Doctor Who showrunner Chris Chibnall shared his feelings on the matter in an interview with BBC Radio 4:
| | | |
| --- | --- | --- |
| " | When I was originally given this job, I was planning to play it safe with the traditional white bread white man for the role, but then the President had to stick his fat nose into our cultural institution. It made me lean towards picking a more spiteful selection. | " |

Chibnall stated that his first choice to directly counter Trump's Larry the Cable Guy nomination was comedian John Oliver. Every episode would've featured the Doctor solving the problem of the week by giving one of his trademark epic speeches, but this time with non-sequitur jokes sprinkled in and lots of exaggerated humourous shouting. Meanwhile, sticking his head out the TARDIS and yelling the current year would be his Doctor's token eccentric quirk. Chibnall decided to scrap that idea in that, while progressive in it own right, that set-up for a television show would get old really fast.
| | | |
| --- | --- | --- |
| " | I soon realized that I couldn't let the American President have too much influence on the decision, even just to spite his sorry arse, since that would still inflate his ego. We have all of time and space to explore, and the universe doesn't revolve around Donald bloody Trump. Once I had liberated myself from Trump's shadow, Jodie Whittaker seemed the obvious choice for the role. She's very talented actress with whom I've had to pleasure of working with for years. It was perfect, and rather eloquent in hindsight. A woman saving the universe is such an easy way to get Trump's goat, all the while giving us that symbolic progressive gesture we need to get us through the waning years of a crumbling empire. The Titanic is sinking and the passengers need calming music. | " |

The renegade decision comes with a grave risk for the BBC, given that Brexit is well underway and the struggling network is still relying on subsidies from the U.S. federal government. Spiting Donald Trump could have been an act of suicide, which Chibnall acknowledged as "worth it" while quoting Mexican revolutionary Emilano Zapata, "I'd rather die on my feet than live on my knees." Time will tell if President Trump will take it so personal as to completely cut off the BBC's lifeline. Fortunately, he seems to be doing what he usually does when someone slights him: Diddly-shit nothing except whining about it online.
Donald J. Trump
@realDonaldTrump

The traitorous limeys at the BBC have shown their true colors. Unfair! #FraudLords #FakeSciFi
3:02 AM - 17 July 2017
       5,627     46
Donald J. Trump
@realDonaldTrump

Chinballs is wrong - the universe DOES revolve around me. #Chinballs #Chinballs
3:17 AM - 17 July 2017
       8,469     57
Donald J. Trump
@realDonaldTrump

@BillNye I know you had something to do with this. Gender is NOT a spectrum! Bow ties are NOT cool!
3:39 AM - 17 July 2017
       8,173     96
Donald J. Trump
@realDonaldTrump

Whoever ever heard of a woman doctor? Another absurd consequence of socialized medicine. #RepealObamaCare
3:55 AM - 17 July 2017
       2,046     28
Donald J. Trump
@realDonaldTrump

Only Wonkavators can break glass ceilings. Gene Wilder is spinning in his grave. Sad!
4:10 AM - 17 July 2017
       3,473     61
Donald J. Trump
@realDonaldTrump

How's a Time Lady supposed to tell when it's her time of the month? Would you trust the fate of the world someone with an unpinnable ovulation cycle?
4:27 AM - 17 July 2017
       9,451     48
Donald J. Trump
@realDonaldTrump

When she bleeds, does her uterus splonge weird regeneration sparkles? Just asking the #BigQuestions
4:39 AM - 17 July 2017
       10,735     42
Donald J. Trump
@realDonaldTrump

If Incapable Jodie's running a time machine, she should fly it to a '40s kitchen where she belongs!
4:56 AM - 17 July 2017
       12,874     345
Donald J. Trump
@realDonaldTrump

I wonder if her screwdriver doowhacky can make me a sammich. #NotMy13thDoctor #My4thWife
5:14 AM - 17 July 2017
       15,295     487
Donald J. Trump
@realDonaldTrump

#FraudBBC #FBC

5:25 AM - 17 July 2017
       68,735     1,390
Sources
[
edit
]