User talk:CartoonistHenning
Jump to navigation
Jump to search
Powdered by: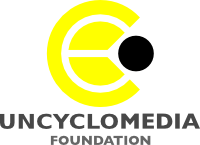 CartoonistHenning__________ Talk page __________ UnMeta __________ Site

Ikkepedia (no) · Oncyclopedia (nl) · Uncyclomedia Commons · moar iw...
Write a new message - I will reply here. In case I posted a message somewhere else, I am following the discussion on that page. For UnMeta or interwiki matters I invite you to go to my talk page on UnMeta (click on the UnMeta-link above), but you can stay here if you really want.
---
Interwiki
[
edit
]
Hi, can you please go here and list the proper URLs with their prefixes for the IW links that you would like re-inserted? I have no idea where they led originally. Also, any help you can give me here would be appreciated. Thanks!  ~ BB ~ (T)

~ Sat, Jan 12 '13 18:24 (UTC)
All iw are listed right here. Perhaps, it will be a lot easier when I fix this with temporar userrights? Cartoonist | Spit it out! | 18:56, 12 January 2013 (UTC)

Nah that's ok. I need to learn how to do this anyway. Thanks for the link, though! :D  ~ BB ~ 

(T)

~ 

Sat, Jan 12 '13 19:44 (UTC)

Np. Please do not forget to tick off the "local" bit | Cartoonist | Spit it out! | 20:07, 12 January 2013 (UTC)

Oh, turn it off? So they show up as external links? (apparently that's not what they do)  ~ BB ~ 

(T)

~ 

Tue, Jan 15 '13 1:50 (UTC)

I meant "check off the box". With other words: turn it on :p Cartoonist | Spit it out! | 01:57, 15 January 2013 (UTC)

Oh, ok. Already done. ~ BB ~ 

(T)

~ 

Tue, Jan 15 '13 2:44 (UTC)

Have recently added most or all of the interwikis, excepting ones that point to Wikia sites, which I'm leaving for later. Do you mind going through the ones that were added and making sure I pointed 'em at the right places? I don't have Internet at home, thus the slow process. ~ BB ~ 

(T)

~ 

Thu, Jan 24 '13 1:51 (UTC)

Yes that's it! Thank you. Only dlm: appears to be a bit broken. Make sure you refresh the special pages (not sure if you have this). If that doesn't help, don't mind | Cartoonist | Spit it out! | 02:49, 24 January 2013 (UTC)
I just happened to run across your talk page and the forum about interwikis. I'm posting here and not on the forum because somebody disabled editing it. I've been really annoyed with this Uncyclopedia for removing -- not just neglecting to install, but removing -- the interwiki shortcut to poor, long-suffering Celwyddoniadur. I was even more annoyed when I found out that supposedly all projects with fewer than 500 articles would not have shortcuts but several shortcuts to such wikis, for example sco: which has only 5 articles (!!!), are in use and cy:, which has 56 articles (well it did before I deleted a bunch of spam pages but it still has 50-something), is a redlink. Please, someone, make cy: point to cy.uncyclopedia.org.uk. I am getting fed up with this. It just makes it harder for people to find the Welsh site, when it's got a low enough level of activity already.
Since I'm able to edit cy:Arbennig:Special:Interwiki, I assumed I'd also be able to edit the English version. For some reason I can't. Do I have to be an administrator or what? That would be weird; cy.uncyc claims that everyone can view and edit Special:Interwiki. Llwy (scold|hover) 16:32, 8 May 2013 (UTC)
You can't edit the table when you're not an administrator, you should request it or so. Try asking User:Lyrithya or User:Bizzeebeever
The English Uncyclopedia went independent from Wikia.com for a while ago. Carlb, me and many others from the Uncyclomedia hosting have been insisting on completing the iw-list, since we were already linking to them and because it was a nice opportunity to have the bonds with this community strengthened again. Their former hosting service, Wikia, had never been keen on linking to small, non-commercial wikis, so there was no way to update the iw-list then. History seems to repeat itself when some administrators here don't want to implement the full iw-list. Solid reasons have not been given so far. My theory is that, given the fact that smaller and/or inactive wikis of ours are more prone to spam, there is perhaps a fear that this spam would be contagious through the interwikis.
I'm not part of the staff here, so my opinion has no weight | Cartoonist | Spit it out! | 17:27, 8 May 2013 (UTC)