UnNews:UnNews reviews Ed Sheeran's new album
Jump to navigation
Jump to search
Friday, May 5, 2023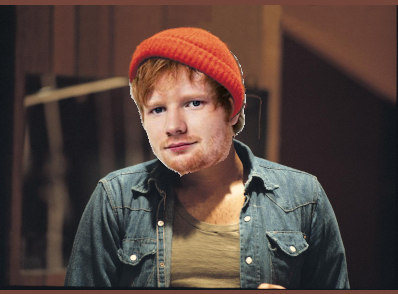 In the wake of his court victory over Marvin Gaye's estate, Ed Sheeran announced a surprise new LP - and UnNews is the first to hear it.
"I wouldn't say there is any one particular influence for the tracks," Ed told us. "These songs just came to me naturally while the court case was going on and my lawyer was constantly playing Marvin Gaye songs."
Sexual Feeling: an instant classic. A funky beat plays host to some delightful wah-wah style guitar and Sheeran singing "When you give me healing / It's a... sexual feeling."
Let's Bet It Don: at first this appears to be a companion peace to Sexual Feeling, as an unspeakably sexy guitar lick kicks off the song, but the chorus tells a different story. "Let's Bet it Don!" Sheeran cries, imploring the former president Donald Trump to gamble on which one of them will have higher legal bills by the end of the year.
Lots Going On: this track finds Ed in philosophical mode. From the first line - "Sister, sister, there's too many of you sighing" - this is clearly the kind of heart-felt pop classic that only Sheeran can write. The chorus has him reflecting on the wealth of information we are bombarded with in the modern age, culminating in the refrain, "There's Lots Going On".
Ain't No Fountain Dry My Stuff: recorded with unknown British singer Pammi Ferrell, Ain't No Fountain Dry My Stuff tells the tale of how Sheeran once got wet while horsing around in the fountains in Trafalgar Square.
I Had a Bit of Grape Wine: a far more menacing song, with its sinuous bass-line foreshadowing a tale of a young Sheeran getting absolutely plastered on what he childishly calls "grape wine". The refrain "I had a bit of grape wine / Now no longer do I feel fine" should prove a stark warning to Ed's young fans about the dangers of alcohol.
Percy Percy P: "Ohhhhh, Percy Percy P" Ed croons on this this smooth-as-silk cut, dedicated to Percy Pig, a British brand of candy, and which turns out to be what Ed calls himself when the wheels come off, diet-wise.
Got To Live It Up: on an album marked by its originality, Got To Live It Up pays a clear homage to Blurred Lines, the controversial rape-friendly song Pharrell Williams wrote and blamed on Robin Thicke. "I like to dress up real smartly / And stand my ground" are the opening lines, and the funky beat and Stevie Wonder-esque organ never lets you look back thereafter.
Wow, Neat It is (To Be Rubbed By You): the LP's closing track calls to mind many a Motown hit, with a shimmering tambourine high in the mix as Ed describes how appreciative he is of the services offered to him by his official tour masseur.