UnNews:Trump tweets "Impeach the pres"
Jump to navigation
Jump to search

Wednesday, December 25, 2019
WASHINGTON, D.C. - In what has become yet another mundane twist in the era of the Trump administration. President Donald Trump used his secure as fuck iPhone to tweet out that he wanted to see himself impeached. In the days leading up to the impeachment vote, he has been firing on all cylinders left and right trying to stop it from happening; blaming everything from the Democrats to the Jews and even Alec Baldwin. However, the recent tweet from his Twitter account has confused just about everybody.
Donald J. Trump
@realDonaldTrump

Impeach the pres
12:00 PM 25 December 2019
       2,069     10,001

That's it... That's the tweet. No insulting joke, no impactful diss, just those 3 words. Comparing this to all of Donald Trump's previous tweets, this is probably the most confusing tweet he has ever left.
A couple of hours later, he then posted a later tweet where he tried to backtrack by claiming he had amnesia and didn't know what he was doing at the time.
Donald J. Trump
@realDonaldTrump

I honestly don't know donald trump, I just saw all the news so I decided to hack into this account to post that. happy holidays y'all!
2:00 PM 25 December 2019
       3,000     12,069

For a president who has spent all of his life defending himself against accusation after accusation, this is especially odd. This is not the president who claimed Ukraine interfered with the elections, this is not the president who claimed Hillary Clinton should be locked up. No, somehow this is a radically different Donald Trump than we've seen. Is it a result of him changing up his Twitter strategy? who knows but we don't know what state of mind the president might be in now.
30 minutes later he then posted up a tweet that praised Apple for everything they have ever done for the United States while offering Americans the "chance" to win a free iPhone.
Donald J. Trump
@realDonaldTrump

HEY U! u like music? click on link to get ur free #euroipods bit.ly/sC4Mm0ur
2:30 PM 25 December 2019
       3,509     15,001

Funny how we don't know anything that's going on. For all we know, he could be having a mental breakdown right now... he could be at the mercy of the Democrats or he could of realized that he'd be in jail for the rest of his miserable life. Nobody can explain this recent Twitter behavior... Of course the man has always insisted of keeping control of his secure as fuck iPhone so we can never know what goes on behind the scenes of the Trump Administration.
UnNews was able to dig up a tweet from an account claiming to be Donald Trump... However he was banned from Twitter for impersonating Donald Trump himself. UnNews managed to capture a screenshot before the account was deactivated.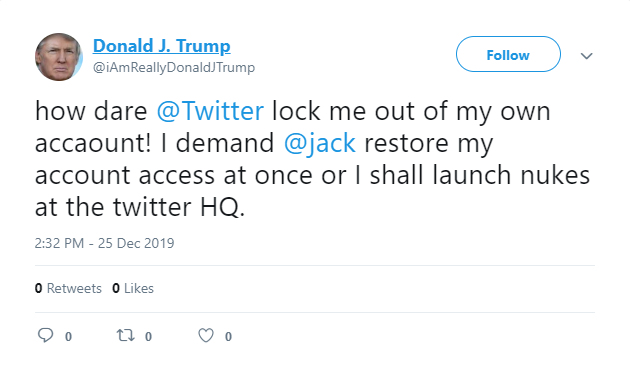 White House press has constantly been claiming that Donald Trump's account has been hacked and they're working with Twitter to get it all resolved but then again, they might be covering for Donald Trump's odd behavior. I mean how else do they justify his actions on the campaign trail?, the insults directed towards disabled people, Mexicans, Jews, African Americans and fans of the show Mr. Rodgers' Neighborhood. The slashing of food stamps, even Space Force for crying out loud! It's like they make up any excuse for anything he does and they get behind it and act as the truth. Well White House? How do you explain the recent tweets tweeted by Donald Trump? Twitter's systems are super secure, so is the iPhone and I don't believe for one second the lies coming from the White House. Cause I choose to believe the facts in front of my eyes; Donald Trump's twitter account, and no amount of lies can ever undo what Trump has tweeted out to the public.
At press time, when Donald Trump was being interviewed about the recent tweets he's made. He declared Twitter as an "enemy of the country" and declared that he would launch nukes at Twitter HQ tomorrow, pending an executive order giving him the authorization to do so. Why is Donald Trump trying so hard to cover this up? The world and possibly us will never know.