UnNews:Tragedy in Europe; Amy Winehouse found dead in home
Jump to navigation
Jump to search
23 July 2011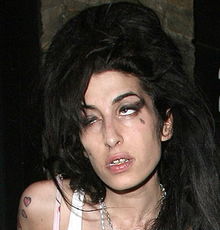 LONDON, England -- Today Europe, and indeed the entire world is mourning a great loss. Pop-star singer and frequent featured attraction on TMZ, Amy Winehouse passed away today in what UnNews can only assume was a successful assassination attempt. Around the world twittering teens are clearing their Saturday schedules to listen to Winehouse's albums, Frank and Back in Black on a continuous loop, while crying and shooting up heroin as a tribute to the late star.
It seems that Europe is the target of many high profile killings this summer. Just recently in Norway a terrible tragedy occurred. A tragedy so damning it kept millions of Norwegians glued to their television sets for hours on end. This was of course, the "longest TV show on Earth" filmed all around Norway for 134 hours. This show played non-stop on a major Norwegian television network, in its entirety. Because the show played more like a nature documentary, instead of a gritty crime drama, the network lost billions of Norwegian kroner, a terrible loss. Some would even go so far as to call it a massacre.
But that is old news. The big story today, and likely for a while will be the passing of the beloved musician, Amy Winehouse. Winehouse had a stirring and soulful singing voice, reminiscent of old Motown music, which explains why she was so quick to decide to sing autotuned pop. Winehouse is also cited by celebrity tabloid television show, TMZ, as one of the reasons they are so successful (along with Brittany Spears and Lindsay Lohan).
The service for the 27-year-old star will be held in London at an undisclosed time. There will also be a live connection to the funeral held at the TMZ headquarters in Los Angeles via skype, and TMZ is offering a substantial sum of money for the first pictures taken at the funeral of the open casket.
Sources
[
edit
]