UnNews:Thailand now 60% "less funny"
Jump to navigation
Jump to search
20 September 2006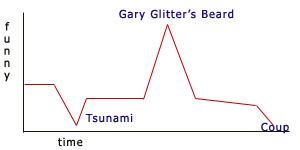 BANGKOK, Thailand -- Thailand is now 60% less funny than it was the day before yesterday, according to the Swedish Institute for Rating Amusing Countries. Before the military takeover, the country was given "Fairly Amusing" status. That has now officially dropped to the level "Only Makes us Kind of go "Phnuh..."". The new military leaders have not helped matters by announcing that everyone in the country must now wear a tie, have a haircut and get a proper job. On the other hand, according to SIRAC, Army chief Sergeant Gen Sonthi Boonyaratglin has a fairly amusing name, so this might be an optimistic sign.
Thailand's status with the SIRAC has been unstable of late. It used to be Fairly Averagely Amusing before the great tsunami, which caused it to drop down to "Very Serious" - the worst rating possible. Later on, Gary Glitter's ridiculous beard caused a resurgance in the country, bringing it up to "Pretty Funny", but in recent months the country's status has dropped, until yesterday when it plummeted.
Matters might change, however. Army chief Gen Sonthi Boonyaratglin said in a TV address that the military had no intention of holding onto power. They apparently just pushed against a door in the government buildings, and it was open, so they thought they'd go in and watch TV for a bit. He promises to hand back power as soon as they find out who wins the Thai "Big Brother".
Sources
[
edit
]