UnNews:Teenager Seeks Restraining Order Against Jesus
Jump to navigation
Jump to search
16 June 2006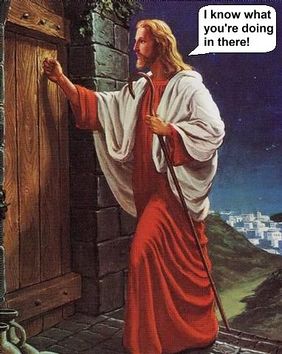 LOUDONVILLE, GA -- American high school student Brett Samhause today filed a restraining order against Jesus of Nazareth, aka Jesus "the Christ", claiming that the former carpenter and founder of the Christian Church unlawfully spied on him and invaded his privacy.
"I know He's my Lord and Saviour and all," Samhause told reporters outside the Haven County courthouse, "But He was always watching me, and that's just creepy."
Although the injunction claims that Jesus watched him bathe and perform other intimate activities, Samhause insists that he wasn't doing anything sinful. "It's not that I was doing anything I wouldn't want Him to see," Samhause stated, "I just don't want Him watching me all the time."
Similar charges were made against Father Christmas in 1996, leading to lawsuits in 34 countries, including People v. Kringle, in which the US Supreme Court awarded a staggering one billion US dollars (approximately £540 million GBP) in damages. Kringle, who (like Jesus) has numerous aliases, is believed to currently be hiding somewhere in the Arctic Circle.
"It's high time these people realise that this sort of behaviour simply won't be tolerated," added Samhause's lawyer, who had accompanied him to the courthouse, "Jesus, if you're watching, and I know you are, just leave my client alone."
The presence of Samhause's attorney has fueled speculation that he may be preparing to file a civil suit against the Son of God. As the only known heir to Jehovah's vast fortune, rumoured to include the entire Universe, Jesus' net worth may be infinite, which His followers say makes him an obvious target for frivolous lawsuits.
When asked about the possibility of litigation, Samhause's lawyer declined to comment.
Under the terms of the order, Jesus must maintain a distance of at least 100 yards (91 metres) from Brett Samhause at all times, and is not allowed to contact him in any way.
"I just want my life back," Samhause said in conclusion.
If he violates the order, Jesus could be subject to fines of up to US$10,000 (about £5400 GPB) or 1 year in prison.
Sources
[
edit
]