UnNews:Russia rigs Oscars! Moonlight wins Best Picture after announcing La La Land
Jump to navigation
Jump to search

Monday, March 13, 2017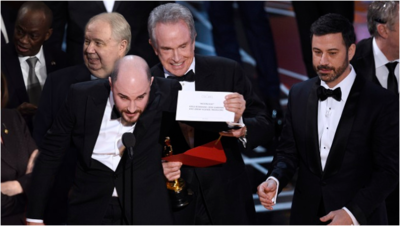 WASHINGWOOD -- Two weeks after the historic Best Picture flub at the 89th Academy Awards, in which frontrunner and fan favorite La La Land was announced as the winner instead of "true" winner Moonlight, The Academy and a group of computer scientists have been able to trace the envelopes back to Russia.
The Soviet country is already at the center of a scandal involving the Donald Trump campaign, including the possibility of having rigged the election.
Video footage revealed that Russian ambassador Sergey Kislyak, already a key figure in the Trump scandal, was present at the Oscars, even taking the stage during the Best Picture mishap. "We didn't think anything of it [at the time]," says Oscar host Jimmy Kimmel. "We thought he was Alfred Hitchcock, as he had claimed."
"These are very serious charges," says Best Supporting Actress Viola Davis (Fences). "We're looking at voting fraud and treason."
This scandal could result in the impeachment of Academy President Cheryl Boone Isaacs. Two (this is a long name - and one word - sorry) Price Watergate Waterhouse Coopers accountants, Martha Ruizp and Matt Damon In Twenty Years Brian Cullinin, have already been fired.
Academy President Isaacs has denied the scandal, going on a Twitter spree to call the whole thing "fake news."
Sources
[
edit
]