UnNews:Romney wins stunning upset in Wyoming caucuses
Jump to navigation
Jump to search
5 January 2008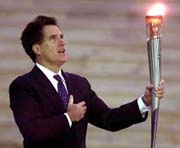 CHENY HOLE Wyoming - Republican Presidential Candidate Mitt Romney won a stunning upset victory the Wyoming Republican Presidential Caucus today, beating out front runner Mike Huckabee for the majority of Wyoming's taking seven (7) of the possible twelve (12) possible delegates to the Republican National Convention.
"The people of Wyoming have overwhelmingly said that they are for me, my ideas and I feel confident that this is the beginning of great things for this nation," said the former Massachusetts governor.
The candidate who amasses 1,197 delegate votes first on the floor of the convention wins the endorsement of the party to run for President.
Romney suffered a significant defeat by Huckabee's base of Religious conservatives who delivered forty (40) delegates from that state to the former Baptist minister. Bringing the totals as of January 5, 2008 to:
When reached for comment, Huckabee said "Wyoming? Who worries about a state with 3 Electoral College votes?"
NBC News pointed out that Huckbee's 40 delegates is quite a lead over the seven that Romney won today. "A big win? Its basic math Brian," said NBC's Tim Russert. "I'm not breaking out my dry erase board for candidate that is 33 votes down after two popularity contests."
"This is the big 'Mo' that I knew would shift our way," Romney stated as he hugged his six wives.
Sources
[
edit
]