UnNews:Obama calls for 'Eight is Enough'
Jump to navigation
Jump to search
29 August 2008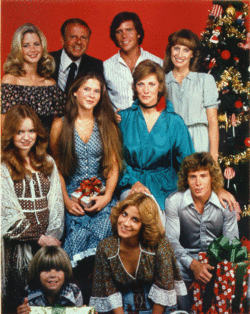 DENVER, Colorado (UNN) -- Barack Obama, in his address to the Democratic National Convention, delivered a stirring and compelling speech, calling for a return of the 1970s sitcom "Eight is Enough". Speaking on the state of American television, Obama emphasized his platform of change. "Change happens because the American people demand it -- because they rise up and insist on new ideas and new programming, new shows at a new time. America, this is one of those moments," he told supporters at the Democratic National Convention. "I believe that as hard as it will be, the change we need is coming.
"We are here because we love TV too much to let the next season look just like the last eight. On November 4, we must stand up and say: 'Eight is enough.'"
Evoking images the great television show of the past, Obama continued. "A show where a man and his wife have eight wonderful children, but they are stricken by the most terrible of circumstances in the death of the hard working wife and mother. One man soldiered on, raising his kids the best way he knew how on his meager income as a columnist in Sacramento. These are the kinds of stories that make America great."
"I stand before you tonight because all across America something is stirring," Obama said. "What the naysayers don't understand is that Nielsen ratings have never been about the networks. They're about you."
The Denver crowd broke into thunderous applause, and chanted the title, 'Eight is Enough', as Dick van Patten joined Obama on stage at the conclusion of the night.
The McCain camp responded immediately following the speech, issuing a statement claiming the speech was "misleading", and "fundamentally at odds with the poor ratings gathered by Obama's favorite shows."
"When the temple comes down, the fireworks end, and the words are over, the facts remain: Senator Obama still likes 'Smallville', avidly watches such tired series as 'The Simpsons', and continues to believe that 'The X-Files' was a success from start to finish. The fact remains: Barack Obama doesn't know good TV when he sees it."
Sources
[
edit
]