UnNews:My Toast Went Missing
Jump to navigation
Jump to search
Thursday, August 8, 2019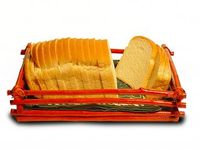 This just in, my toast went missing. The toast was first recorded missing at 9:30 p.m., when it left my plate for no apparent reason. I looked all over the house to the horror that MY TOAST WENT MISSING! Police were called to investigate to no prevail. They brought in some suspects to help with this crime.
The first suspect was Dogbert, who was present when the toast went missing. He said that he saw the toast go into someone's hand... so we Brought in ANOTHER suspect, Mr. Fat A. Albert.
Fat A. Albert didn't eat toast he said as he went to Dunkin Donuts to eat all the donuts (which will be reported on November 18, 2021). That led to the last suspect, me!
The police examined my hands to find that there was butter on them, not to mention crumbs on my chin. Well, it looks like my toast didn't go missing after all! I just ate it! Due to false crime thingy, I was sentenced to a day in the timeout chair. This is Tommy Tomster, signi-
TOMMY, SHUT UP AND STAY IN YOUR CHAIR!
UGH, FINE MA!