UnNews:Murkowski wins in Alaska
Jump to navigation
Jump to search
19 November 2010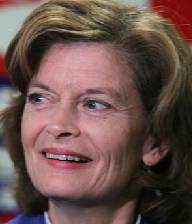 KETCHIKAN, Alaska -- UnNews reporters, standing on the proud Bridge to Nowhere, have called the State of Alaska for Senator Lisa Murkowski.
Poll workers continue counting absentee votes, and wire services continue to watch them, and we continue to read the wires, letting us declare that Murkowski will remain U.S. Senator from the Nowhere State.
Murkowski lost the Republican primary election to Joe Miller, a candidate backed by the Tea Party, but was sure that Alaskans wanted her instead of the candidate they voted for and, much like "term-limits" legislators do when the year of their promised resignation actually arrives, decided she owed it to voters to give the decision to them.
"A write-in campaign is a gambit that does not always work," said Charlie Christ, a private citizen living in Florida. But the outcome was clear when Senate Republicans voted to let Murkowski keep her seniority, committees, and fancy office, even though she was, at the time, running against the Republican.
The slow, methodical counting exposed the two sides' true character even more clearly than the 2000 election, when a slim Supreme Court majority adamantly opposed to "judicial activism" decided that even that sounded better than "President Gore."
In Juneau, lawyers for Murkowski, the sitting lawmaker, demanded that recount officials break the law, which allows only two ways to spell her name. Meanwhile, Miller's lawyers challenged mountains of votes, by voters who obviously wanted Moocowski despite their utter inability to spell her name or probably their own. Thus the Tea Party candidate, who supposedly wants to return power to the people, worked overtime to disenfranchise them, one voter at a time.
Shortly after winning, Murkowski reasserted her support for earmarks, a practice in which Congress assumes executive as well as legislative power to guide loot to specific individuals and corporations. Unfortunately, enough other Tea Party candidates were elected that even the Senate Minority Leader, whose name was not immediately known, threw in the cards.
The Bridge to Nowhere, built with such an earmark, is technically a misnomer. There are no people on this island, but there is a small airport, also built by earmarks. The correct name is the Bridge to Planes to Nowhere.
Sources
[
edit
]