UnNews:Kyrgyz protesters call for vowels
Jump to navigation
Jump to search
2 November 2006


BSHKK, Kyrgyzstn -- Thousands of opposition protesters have gathred in the Kyrgyz capital Bishkek for a rally to demand legislation which would legalize vowels in the long-time consontants-only nation. Some have erected tents in the main square and say "w wll rmn hr ntl r dmnds r mt." They are angry at what they say is the president's failure to introduce spelling reforms he promised when he came to power a year-and-a-half ago. President Krmnbk Bkyv has rejected their calls for immediate phonetic reforms and has called vowels "cptlst prpgnd." He also noted, "th hbrw lphbt ds'nt hv vwls nd lk hw sccssfl th jws r."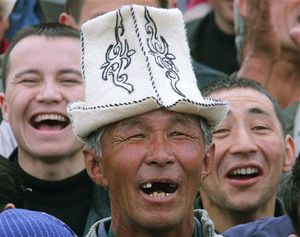 Opposition supporters began gathering from early morning, with shops shut amid fears of possible violence and looting. Carrying placards - and with some on horseback - the protesters marched on the main square outside the presidential building, watched by hundreds of police. Police said "sm fv thsnd ppl hv gthrd," although correspondents said the figure was at least double that.
"W wll sty th sqr s lng s th cnstttn s nt chngd nd vwls r stll gnst th lw," opposition leader Tmr Sryv told the crowd. He said some 300 tents would be set up in the area. Protesters told the UnNews website that while the atmosphere was peaceful they feared events could turn violent.
"Thr r mny dffrnt grps gthrng... t fls vry rsky t b t," shop owner Bkyt Tlprv said. The UnNews's Ayatollah Gurkhmeini says the scene is similar to events in March 2005 when thousands protested in the same square during the so-called Upsilon Revolution that drove President Bkyv to legalize the letter Y, which sometimes functions as a vowels and sometimes functions as a consonant.
Sources
[
edit
]