UnNews:Joe Biden to remake The Mask
Jump to navigation
Jump to search
This article may be impacted by current events, namely the death of Ruth Bader Ginsburg, the 2016 election, or Donald Trump's next 20 scandals.

Misinformation may change rapidly. Use frequent updates to ensure that it remains as uninformed and unhelpful as possible.
Wednesday, September 23, 2020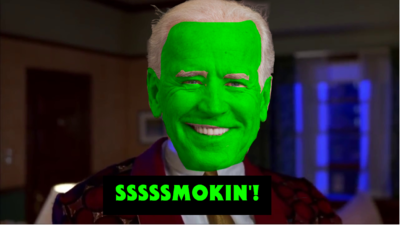 NEW YORK -- Warner Bros.'s New Line Cinema has announced that future 46th President of the United States Joe Biden will be starring in a remake of the Jim Carrey classic The Mask. No other casting announcements have been made, but Cameron Diaz is rumored to be coming out of retirement to reprise her role as Tina Carlyle.
"We're very excited to have Joe on board," says Co-president and CCO Carolyn Blackwood. "He has impeccable comedic timing, if not the rubber-faced characteristics of a live action cartoon. Joe Biden has the blessing and official endorsement of Jim Carrey, who will return the favor by playing Joe on SNL."
Speaking of SNL, Lorne Michaels will serve as an executive producer on the remake.
But things could get ugly, Biden Warned.
"If Donald Trump were to inexplicably win the election, I would instead remake Son of The Mask."
Loki, the Norwegian god whos spirit inhabits the mask and thus whoever wears it, was not available for comments. He is currently on tour with the black metal band, Enslaved, promoting their new album. However, Enslaved's frontman Grutle was very excited by the news and told us that "Loke, the son of F†rbaute, father of lies. Born of earth, unbound by law". Which basically means that no Son of the Mask remake is coming anytime soon.
Sources
[
edit
]