UnNews:Illegal Aliens on run in London
Jump to navigation
Jump to search
12 May 2008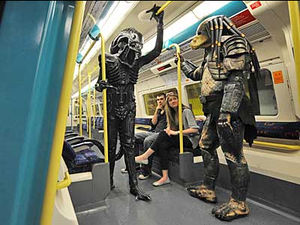 LONDON, England - Two illegal aliens vanished after police put them on a train to a detention centre 80 miles away. Officers gave the illegal immigrants tickets to travel from Cambridge to an immigration base in Croydon after they entered the country in two extraterrestrial space pods.
They had been found on February 5th at in Fordham, Cambridgeshire where the two appeared to be caught in an argument over a cow in a field. A number of items described as "weird medical looking things" were confiscated by the arresting officers.
Det Insp Alan Twatt said: "In matters of this nature, the police are led by the UK Immigration Service, which in turns follows the Home Office instruction. In this instance the Immigration Service in St Ives was consulted and the decision taken to direct individuals to the immigration facility at Croydon, which is accepted practice. Although we didn't like the look of these fellows, and one of them did have dreadlocks our hands were completetly tied. We can't even give these people so much as a clip round the ear these days. Bring back hanging, I say!"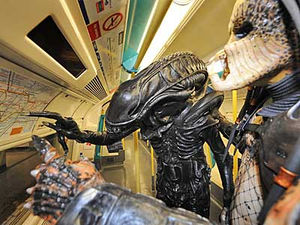 But the Immigration Agency For Illegal Aliens and Non-Related Anacronyms (WANG) denied that police were acting on its guidance.
"It is not true that we advised the police to tell illegal immigrants in Cambridgeshire to make their own way to Croydon," said WANG spokeswoman, Martha Dogood, "In fact, we don't advise any action at all. Normally we don't even answer the phone, I only did this time because I'm waiting for my girlfriend to call about a trip we are planning to Ibiza."
Police said that one of the individuals had "just disappeared" after boarding the train, whilst the other may have been involved in an unfortunate accident were an attempted Heimlich Maneuvere appeared to go horribly wrong on a passenger on the same train. Police are treating damage to the floor of one of the carriages caused by what appears to be acid as suspicious.
The whereabouts of both aliens remains a mystery.
Sources
[
edit
]