UnNews:High Court injunction against Eyjafjallajokull volcano
Jump to navigation
Jump to search
15 April 2010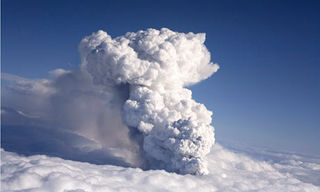 LONDON, England -- The British Aviation Authority and British Airways bosses expressed their satisfaction at today's High Court ruling against the Eyjafjallajokull volcano in Iceland.
The emergency injunction against the volcano came after hundreds of thousands of passengers across Britain were grounded and scores of airports closed due to ash in the upper atmosphere from the Eyjafjallajokull eruption.
Mr Justice Sir Mark Ereht-Thatcher stated that he made his ruling that the volcano must cease disruption of the aviation industry because of irregularities in the balloting process. He also claimed that Eyjafjallajokull's decision to go ahead with disruptive actions against the British aviation industry without a fair and democratic ballot were an "affront to democracy" and "another demonstration of the bankruptcy of the militant trade unionist movement".
This interpretation of events was strongly criticised by Eyjafjallajokull's lawyer, Mr Scargill, who condemned the ruling as a blatant attempt by the "establishment elite" to crush the right to take industrial action.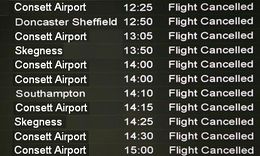 Despite the ruling, Eyjafjallajokull has continued defiantly erupting tens of thousands of tons of dust and ash directly into commercial flight paths throughout the day causing the cancellation of hundreds more flights and disruption to the travel plans of tens of thousands of people.
Prime minister Gordon Brown then claimed that unless Iceland takes control of the situation to prevent Eyjafjallajokull from disrupting British trade and commerce, the British government will have little choice but to declare war on Iceland for harbouring economic terrorism.