UnNews:Fisher-Price recalls toys caked in radioactive material
Jump to navigation
Jump to search
2 August 2007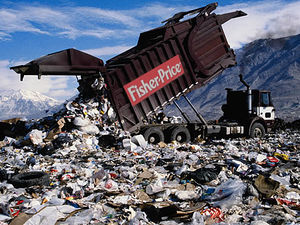 WASHINGTON DC -- Fisher-Price, Inc. has recalled a new line of popular toys after discovering that coating the toys in a mixture of uranium-235 and plutonium-238 caused a significant increase in cases of cancerous mutation among both the products' target audiences and anyone who has come in contact with them. The recall, announced late Wednesday, calls for the +total recall of all licensed products - including the wildly successful Tickle Me Elmo - and all models of the Power Wheels brand of drivable cars for children.
Reports of the overuse of the radioactive isotopes first emerged after a complaint from a concerned citizen that his child's Power Wheels vehicles glowed an iridescent orange at night. At first believing it was an added safety feature, it soon became obvious that the eerie glow was responsible for the length of his son's neck doubling.
"Originally it seemed harmless to me," the concerned whistleblower told UnNews. "Sometimes my son would come home with his eyelids a bit droopier than usual, but I never thought twice about it until they melted off."
The son, who will also remain nameless, is currently recuperating from an unusual tumour, which eventually grew to the size of an Abrams tank before becoming life-threatening.
When asked for a comment, Fisher-Price executives confirmed that the Chinese were completely responsible for the event and that poor management, lack of qualified supervisors overseeing the products' safety and distribution, and the uncanny presence of multiple tons of unaccounted-for nuclear material were simply an untimely coincidence.
"As much as we would love to look into the threat of nuclear proliferation and how a medium-sized toy company that works primarily with China was able to obtain enough uranium and plutonium to detonate Times Square, we think now is a much more important to focus on the poor Chinese health and safety standards that are corrupting the American way of life," CEO Ronald Jackson told the press early Thursday.
Off the record, Ronald Jackson later added, "Let's see the fuckers blame us for the five-eyed fish now."
Sources
[
edit
]