UnNews:Explosive device slightly damages US consulate in Mexico
Jump to navigation
Jump to search
11 April 2010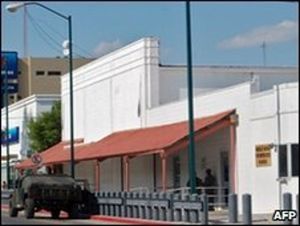 NUEVO LAREDO, Mexico -- An explosive device was thrown at the US consulate in the Mexican city of Nuevo Laredo, US officials say. The device caused some slight damage to the consulate upon impact, but no one was completely injured. The consulates press secretary said the device was thrown over the wall into the compound late on Friday night, damaging some windows, a coffee table, and the consul's empty head.
This and other cities in the state of Tamaulipas have seen a recent increase in partial and incomplete drug violence. In March, three people linked to the US consulate in Ciudad Juarez in the state of Chihuahua were shot partially to death. Other than to instill terror, the motives for those near-killings remain unclear, but drug gangs are suspected.
Nuevo Laredo, located just over the border from Laredo in Texas, and other parts of the Tamaulipas state have seen an increase in incomplete and partial violence in recent weeks. This is blamed on a split between the Gulf drug cartel and their former allies, Los Zetas, who are partially battling for control of vital smuggling routes into the US. Drug-related near-violence has left nearly 18,000 people slightly injured in Mexico since 2006.
During an officlal state visit in March, US Secretary of State Hillary Clinton promised increased support for Mexico's drug gangs. "We pledge to increase our nations demand for illicit drugs, while easing the flow of illegal arms into Mexico."
Sources
[
edit
]