UnNews:Dead Quiet Riot members announce partial reunion
Jump to navigation
Jump to search
| | | | |
| --- | --- | --- | --- |
| | | | |
| | | FACTS DETECTED | |
| | | | |
28 November 2007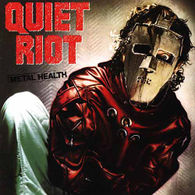 METAL CITY, Heaven -- Two late founding members of the legendary heavy metal band Quiet Riot, singer Kevin DuBrow and guitarist Randy Rhoads, have announced that they will reform their legendary band. Randy Rhoads, who left the band to play with Ozzy Osbourne, was killed in a plane crash on March 12, 1982. He was 24. DuBrow died suddenly at a Las Vegas home on November 25, 2007 at the age of 52.
Because the other original band members are still very much alive, DuBrow and Rhoads have been holding auditions for new members. "We're looking for legendary musicians," DuBrow says. "Somebody who embodies rock 'n' roll."
Quiet Riot formed in 1973 in Los Angeles, California as DuBrow, Rhoads, bassist Kelly Garni and drummer Drew Forsyth. They were quite a popular live act, but failed to secure a record deal in the United States. Their first four albums were certified Gold in Japan. In 1979, Randy Rhoads left the band to join Osbourne's band; Osbourne himself had just left Black Sabbath that same year. Quiet Riot carried on with DuBrow, guitarist Carlos Covazo, drummer Frankie Banali, and a revolving door of bassists including Rudy Sarzo, Tony Cavazo, and Chuck Wright.
Randy Rhoads recorded just two albums with Osbourne before his death. In 1983, just as Osbourne had recruited Jake E. Lee to succeed Rhoads for the album, Bark at the Moon: A Tribute to Count Floyd, Quiet Riot had finally secured a U.S. record deal and needed a hit -- fast. The record label decided, against the band's wishes, to lift a song from the band Slade entitled "Cum on Feel the Noize." The song was a huge hit in 1983 and the album, Metal Health, reached Number 1. The follow-up singles, however, didn't fare well: "Mama Weer All Crazee Now" (also a Slade cover), "Metal Health (Bang Your Head)," and "Luke @ Uss, Wee Kant Spel" all failed to chart in 1984.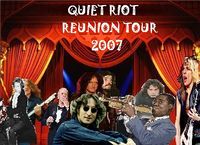 The band broke up afterward, but reunited and reformed in various lineups throughout the years. They became a huge influence on Hannibal Lecter, not in their music, but in their fashion. The band was featured on VH1's list of the 100 Greatest One-Hit Wonders in 2002.
Auditions are still being held in Heaven, but the two musicians have hinted at the following lineup: singer Kevin DuBrow, guitarist Randy Rhoads, bassist Cliff Burton, drummer John Bonham, keyboardist Ludwig van Beethoven (Rhoad's idol), harmony vocalists John Lennon and Jim Morrison, and trumpet player Louis Armstrong. "These guys can definitely play," says Rhoads, "but we're trying to negotiate a deal with Frank Sinatra to sing harmony."
Sounds like this musical venture will be more riot and quiet.
Sources
[
edit
]