UnNews:Country musician Charlie Daniels warns Taco Bell about Illuminati
Jump to navigation
Jump to search

Friday, January 12, 2018

This article contains actual facts

Normally this would make it utterly unsuitable for

Uncyclopedia

. However in this case the truth

is

stranger than fiction

.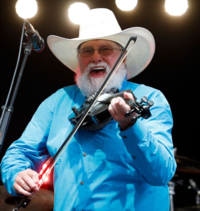 WHATTHEFUCKLAND, USA -- You really can't make this shit up. Country singer-fiddler, "Devil Went Down to Georgia" hitmaker, and crackpot conspiracy theorist Charlie Daniels just tweeted some weird shit about Taco Bell and The Illuminati. Yes, you read that right, folks! His first tweet reads as follows:
Charlie Daniels
@CharlieDaniels

Hey Taco Bell

The Illuminati is not a frivolous subject

8:32 PM - Jan 8, 2018
       15,202     42,241

Things got even weirder when Daniels elaborated, even implicating Taco Bell in at least three of them. Here's just a few of our favorites:
Charlie Daniels
@CharlieDaniels

Did you know where Oswald ordered lunch from before he shot Kennedy? You guessed it? @TacoBell
8:37 PM - Jan 8, 2018
       16,309     57,258
Charlie Daniels
@CharlieDaniels

Wanna know why the name @TacoBell sounds familiar? It was founded by classical composer Pachelbel in order to introduce tacos to N. America and to brainwash them into eating crappy food. 1/
8:45 PM - Jan 8, 2018
       15     2
Charlie Daniels
@CharlieDaniels

2/ George Washington was involved in the plot. It was all a coup to seize control of the colonies from Britain.
8:45 PM - Jan 8, 2018
       15     4

That didn't make a lick of sense. Then he dropped the ultimate Taco Bell conspiracy theory:
Charlie Daniels
@CharlieDaniels

Kubrick faked the Moon Landing! And the @TacoBell Chihuahua! It was actually @BarackObama wearing a Ren & Stimpy costume. It was a plot to make a black man President. #IWasThere
9:00 PM - Jan 8, 2018
       57M     200M

Mr. Daniels is clearly off his rocker. Apparently, his tweets are related to a recent Taco Bell ad campaign that makes light of the Illuminati. These tweets read as if they were written by someone who watched a marathon of The X Files, changed it to Fox News and left the TV on all night.
Taco Bell has yet to comment on this story beyond "What. The. Fuck? Dude's licking some serious toads!"
Sources
[
edit
]