UnNews:Cosby to host Women Say the Darndest Things
Jump to navigation
Jump to search
Thursday, November 20, 2014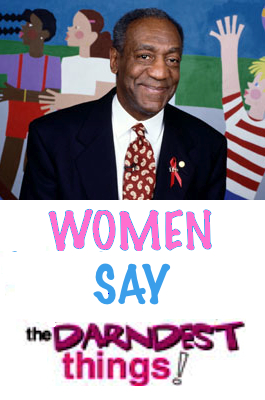 NBC has announced that Bill Cosby is set to feature in a new show in 2015 - called Women Say the Darndest Things.
The 77-year-old, who enjoyed success with Kids Say the Darndest Things as well as The Cobsy Show, said he was "very excited to show everyone the funny little dumb things that these ladies have to say."
The premise of the show is that Cosby will ask questions to a woman who is, hilariously, much younger than him, who will then respond in a "cute" way when providing details of sexual abuse.
The show's first trailer showed Cosby asking the girls some rib-ticklers such as, "Did I ever give you 'herbal' pills to ease your anxiety, before touching your breasts and vaginal area, rubbing my penis against your hand, and digitally penetrating you?"
Cosby then riffs on the term "digital penetration", saying that in his day the only thing that was digital was his calculator.
An enthusiastic audience is later heard laughing through Tamara Green's confused anecdote, as she recounts adorably, "And then... and then you groped me. And then you kissed me. And then and then you touched me. And then you started taking off my clothes. You're a smelly head."
Despite his age, Cosby shows no signs of slowing down. Sources say he managed to get through thirteen female participants for the first show.
"Bill just has a way of making his guests relax," one insider told UnNews, "He puts sleeping pills in their coffee."
Sources
[
edit
]