UnNews:Charlie Sheen throws holiday gift party
Jump to navigation
Jump to search
Monday, December 21, 2015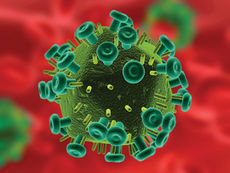 Actor and professional man-whore Charlie Sheen, who made headlines last month after announcing that he was HIV positive, will be throwing a lavish holiday gift party at his mansion on Christmas Eve. Sheen posted a public invite online that everyone, rich or poor, man or woman, who RSVPs will be invited to each receive a gift from him personally. "I've lived a selfish life for far too long," a humbled, surprisingly spiritual Sheen told The Invasive Bug. "I believe the Lord sent this virus to me, not simply as a punishment, but to smack me over the balls and tell me that I need to give back to my fellow man. Givinnnng!"
The catch - so to speak - of Sheen's holiday gift party is that it is a "gift party", in reference to the "bugchaser" fetish. There are people who get a sexual thrill from the risk of catching AIDS, and will actively seek out sex with the HIV positive. Those willing to spread it are known as "gift-givers". Once the bugchasers are themselves positive, they too will spread the love to other fetishers, and so on and so on, like a present trade-off. Not only is it one of the more festive fetishes, but one of the more generous, of which each gift-giver expects nothing in return. "Yes, the Lord blesses us and asks that we give of ourselves," said a joyous, smiling Sheen. "Material things come and go, but what comes from inside - that lasts forever!"
Charlie Sheen had invited former boss and Two and a Half Men creator Chuck Lorre to the party as a guest of honor to make amends for all the bad blood between them, so that they may share some new bad blood. Unfortunately, Lorre turned down the invite, telling him "They don't make pianos heavy enough" and "The whole thing seems like a bad joke that even I wouldn't write."
Sheen was also disappointed that former co-star and born-again Christian Angus T. Jones wasn't attending, refusing to lift the restraining order put in place after the events of the last Christmas party they shared. "Whelp," sighed Sheen, "you can't bum a bug to a humbug."