UnNews:Buddy Holly, Ritchie Valens, and the Big Bopper rise from grave to perform Canadian concert tour
Jump to navigation
Jump to search
26 March 2010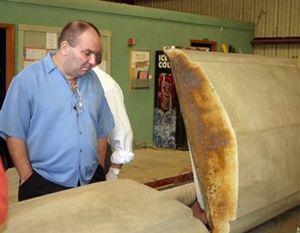 GLACE BAY, Nova Scotia -- After spending over 50 years as corpses, Buddy Holly, Ritchie Valens, and the Big Bopper have been exhumed from their graves for your listening pleasure. They have just kicked off a Canadian tour that started yesterday in Halifax but their biggest concert will be at the Savoy Theatre in Glace Bay tonight.
The Savoy is by no means a new venue for concerts featuring dead artists. Just last month they put on a concert featuring the Beatles. This concert will be different, however, because unlike the Beatles concert, all of the performers at tonight's show are deceased. In addition they have been deceased much longer than the dead Beatles who have only been dead for 30 (John Lennon) and 9 years (George Harrison).
Because of this, the corpses are believed to be in much worse condition than those of the Beatles. Concert promoters have been mum on the condition of the three performers but reports leaked onto the internet in 2007 reveal that the Bopper's corpse was remarkably well perserved despite the fact that "it stunk to the high heavens".
Bopper, who was dug up in 2007, to disprove a theory that he was shot to death was found to be in excellent condition despite the fact that he was dead for almost 50 years. He suffered massive injuries, as did Holly and Valens, in the plane crash that ended their lives. World class morticians expertly reconstructed his face and reattached limbs to trunk. No word has been released on the condition of Holly and Valens. Concert-goers at last night's event in Halifax reported that Holly and Valen's corpses were in even better condition than the Bopper's and that the show was highly entertaining.
The singers performed various hits that they penned including Peggy Sue (about a prostitute that Buddy Holly picked up in his home town of Lubbock, Texas at the age of 16), Chantilly Lace (about teenage girls and lingerie), and Donna (a love song Valens wrote about his sister).
Concert promoters did not say how they were able to compel the corpses to perform music and play instruments but a worker at the Savoy who wished to remain anonymous said it involved speakers placed in the singer's throats and strings attached to their fingers, wrists, and legs so they could dance and play their instruments. It was a similar setup to last month's Beatles concert,. Stage hands at the Savoy have become expert at bringing the dead to life for performance purposes.
Savoy staff expect another sold out performance similar to the show last night in Halifax. The singers' bodies are being treated with formaldehyde to help cut down on foul odours common to dead bodies. This plan was put into effect after several Halifax concert attendees in the first few rows vomited on each other and on the singers because of the singer's death stench. "We don't expect to have this problem tonight, our staff is more experienced in handling the dead now" said Savoy manager Keli Corpse. "Many of our staff have worked in local funeral homes and are intimately familiar with every aspect of post-mortem care". When asked what he meant by intimate, Corpse declined to comment further, saying that his staffs personal lives are "none of my business".
If last month's success with the Beatles indicates anything, tonight's show should be another sold out success, tickets are still available but are selling fast, anyone wanting to attend tonight's Winter Dance Party featuring Holly, Valens, and the Bopper is urged to call the Savoy now at (902) 555-1577 or log on at www.savoytheatre.com.
Sources
[
edit
]