UnNews:Bart Simpson arrested for indecent exposure
Jump to navigation
Jump to search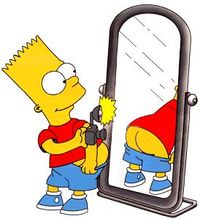 24 March 2007

SPRINGFIELD - Bart Simpson, a star of the television series The Simpsons and the feature film The Simpsons Movie, was arrested on charges of indecent exposure after appearing nude in public.
The 10-year-old seemed surprised to have been taken into custody. "I appear naked all the time in the TV show," the adolescent said, "and I'm in several nude scenes in the movie, too. My fans think it's cute."
The youth has a "prior record as a juvenile offender," police spokesman Marty Moore told Unnews' reporter, Lotta Lies. "He's a delinquent."
The principal of Bart's school agreed that the boy has "significant behavioral problems. If ever there were a candidate for Ritalin, it's Bart Simpson." In fact, the school counselors and nurse have repeatedly asked Bart's parents, Homer and Marge, to authorize the sedation of their son, "at least during school hours", but they have steadfastly refused.
"Homer explains Bart," the principal said. "The apple doesn't fall far from the tree."
Homer works at a nuclear power plant and, according to neighbors, "glows in the dark".
School officials believe that Homer's exposure to nuclear radiation has "mutated his sperm, resulting in Bart".
Explaining the reason for his nudity, Bart told arresting officers, "People think I have cute 'buns'. They want to see me naked."
Bitter has-been and former child star Paul Petersen, who played Jeff Stone on The Donna Reed Show, is founder of the child-actor "support group", A Minor Consideration. He cites Bart's fate as an example of the "abusive treatment of America's young people by Hollywood perverts". Bart, he says, is just "one among many", including Brooke Shields, Jodie Foster, and, more recently, Dakota Fanning, whose morals and innocence have been corrupted and "stripped away" by the amoral and immoral among Hollywood's TV and film moguls, "pedophiles, all".
As Bart points out, he has appeared nude many times on the TV show, and, in the recently released movie, he appears naked as he rides a skateboard through the streets of his hometown in a scene during which, in an accident, he flies head over heels, landing against the plate glass window of a restaurant inside of which a family, which includes a young boy and girl, are dining. The father lifts a breadstick, just in time to prevent the audience from seeing Bart's genitals, although, it is suggested, the children in the restaurant booth are not protected from the sight of Bart, fully unclothed.
Bart's nude scenes have inspired other filmmakers to demand that their pre-pubescent stars also appear naked. Reportedly, Disney-MGM Studios is pressuring its stable of child stars to "disrobe for the camera", a move that has angered many parents, prudes, and religious zealots. The Attorney General is looking into whether filmmakers who demand that minors appear nude in films can be charged with child pornography, while children are adding "no-nudity" clauses to their contracts, the way adult actresses have done to "retain their dignity" in an increasingly undignified industry.
Bart was released into his parents' custody, just in time to film the final nude scene for The Simpsons Movie 2: Naked Again!