UnNews:Area stoner had the 'dankest' Thanksgiving, dude
Jump to navigation
Jump to search
25 November 2011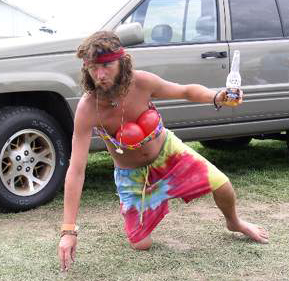 Venice Beach, CALIFORNIA: Calvin Moon, an unemployed South California stoner and all around chill dude, had the 'dankest' Thanksgiving of his life this Thursday. The recently graduated 23 year old who lives with his yoga-instructor girlfriend Solange, reunited with his family at his Aunt Gertrude's house. Sources say that he was "stoked for the mad spread". Before the meal, Calvin smoked a bowl from his beloved piece, "Herman" which he bought from a guy with a dreadlocked beard at a jam band festival. He also wrapped some headies in some skeevie papers and smoked a joint with his girlfriend, who was meeting Calvin's family for the first time.
Conveniently, they smoked the dank ass skink skunk at 4:20 PM, exactly 40 minutes before the main course was served, allowing Calvin to enjoy the meal at the peak of his high. His marijuana induced hunger even allowed him to enjoy Aunt Gertrude's turnip casserole, which by all accounts was pretty disgusting. Calvin fell asleep at one point during the meal, but fortunately went unnoticed. Sources also report that Solange, who is a vegan and outspoken animal-rights activist, refused to eat Uncle Bert's turkey, much to the chagrin of the entire family. After the meal, Calvin took a private shower and enjoyed some personal "buds and suds". "This Danksgiving was raw ragin' for real, dude," Calvin confided later that night. "Scuse me dude, I gotta put my billy blunts back in my bakey box."
Despite Calvin's overall enjoyable day, he dropped Herman on the shower tiles, causing it to shatter into dozens of glass shards. A funeral service will be held for the fallen piece this Friday at Captain Joint's head shop.
http://www.youtube.com/watch?v=K4FSew0vmUQ&feature=channel_video_title