UnNews:Apple purchases exclusive rights to lowercase "I"
Jump to navigation
Jump to search
30 July 2008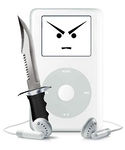 CUPERTINO, CalIfornIa — Apple, Inc. has announced that they wIll be purchasIng exclusIve rIghts to the lowercase "I." Any vIolatIon of trademark laws wIll result In aggressIve legal actIon. Says Apple CEO Steve Jobs, "It's all a part of our long-term world domInatIon marketIng strategy. If people want to use the lowercase I, all they would have to do Is buy an Apple computer, then download the latest versIon of iTunesTM and use It to purchase the letter, whIch can only be downloaded onto an Apple iPencIlTM for unlImIted use, provIded they do not share It wIth more than one other pencIl."
MIcrosoft CEO BIll Gates responded by statIng that MIcrosoft would be releasIng an alternatIve to the lowercase I, the lowercase j wIth the taIl cut off. Gates, however, refused to comment on a release date, sImply sayIng that the lowercase j wIth the taIl cut off would be released "soon."