Terms for American descendents of Africans
Jump to navigation
Jump to search
Terms for American descendents of Africans describes the many things white folks do when they are really, really trying to be nice. But, like all things that you struggle with when you are trying to be nice, it comes out sounding like crap.
Earlier attempts were: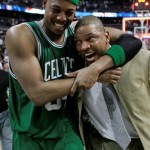 Anyway, it doesn't really matter much any more. Being black is so cool--after Sidney Poitier and Denzel Washington, for Christ's sake--that we may not need a word for it soon. After all, you don't have to say "Italian" American or "Polish" American or "Fiscal" conservative or whatever.
Then American blacks will be just like English blacks. Now there's a terrific example: blacks in London are just Londoners--They don't speak a separatist dialect, they don't wear dashikis and bone beads, and they don't name their love children names no one has ever heard of. They may even have jobs. Wonder why. Politically correct White Liberals in America are probably the worst for race relations. As a few black commentators have said, "The Ku Klux Klan couldn't do that to us if they had tried."