Slate (magazine)
Jump to navigation
Jump to search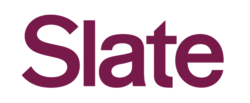 "Dear Prudence?"
Slate is an online magazine, hewn from the crude grey mass that was the internet in 1996 as a joint venture between Microsoft and a real magazine, The New Republic. Slate enjoyed early popularity as part of the adult-friendly MSN technomaze, validating the center-left opinions of its readership that public radio could only hope to inform. The website's daily updates cover politics, and politicize sports, the low arts, news, and the doings of actual newspapers.
Background
[
edit
]
Much of Slate's content is organized into regular features, some themed such as the advice column Dear Prudence, others guided only by the alleged celebrity of their authors such as Mickey Kaus's long-running proto-blog, Kausfiles.
Aside from topical distinctions, Slate columns are written by a strict stylebook, borrowing the short paragraphs and low-comma count of the traditional newspaper editorial page, while keeping (perhaps establishing) the webzine tradition of aggressively challenging its readers least-passionate opinions. Co-Founder Michael Kinsley is credited with revolutionizing the editorial process for the internet age with a three-pronged attack, pithily expressed as generic headlines:
WHY [OBVIOUSLY BAD THING] IS IN FACT GOOD FOR YOU AND/OR WESTERN CULTURE.
WHY [OBVIOUSLY GOOD THING] IS ACTUALLY DESTROYING THE VERY FABRIC OF SOCIETY.
WHAT [HABITUALLY WRONG PUBLIC FIGURE] GETS RIGHT ABOUT [CONTENTIOUS ISSUE].
These three standards are reputedly printed in size 210 "embossed" Times New Roman, landscape format, and sticky-tacked above the New York office's door.
Editorial Stance
[
edit
]
Frequently characterized as exactly 14 inches left of center, Slate's staff was almost unanimous in its support for war with Iraq. Although safely distancing itself from that opinion over the next four years with numerous elaborations of the operation's mismanagement, a comparison to current public polling puts the webzine at a de facto 2 to 2.5 inches right of center.
Kinsley, himself, has rejected this appraisal, citing an unfair "two-dimensional" bias that cannot spatially account for columnists like Christopher Hitchens, who he describes as "[a guy] who will call Mother Theresa a Bible-thumping hobag at 9:30 AM , eviscerate an anti-war straw man on Hannity and Colmes at 9:30 PM, then stumble his way to a great night's sleep, aided only by a mod-priced brandy. Try and chart that without a Z axis, dicks."
See also
[
edit
]