Orange Spiny Crab
Jump to navigation
Jump to search
Orange Spiny Crab (not to be confused with Orange Spicy Crab, a South-East Asian dish) is a Japanese rock band formed in 2012. They are famous for their troubled history as a band, going through every possible form of break-ups and scandals. Their mascot is a beaver.
Humble Beginnings as The Virgins
[
edit
|
edit source
]
The band was formed on a whim when drummer Chad Kroeger met guitarist Suzuki Naoto on a trip to Japan. Kroeger was fascinated by Suzuki's strange ability of playing a guitar as if it was a violin. He immediately phoned home to his partners at his label to cut out a record deal. When Suzuki insisted that his friends remain in the band, Kroeger was hesitant. He had planned on creating a "fleeting" band with an ever-changing lineup. This was inspired in great part by idol groups such as Morning Musume and AKB48, which Kroeger was very fond of. Unable to convince Suzuki otherwise, he agreed and thus the band "The Virgins" was born. The name of the band was a remnant of Kroeger's idea of only allowing virgin females as members.
The band played 25 shows, mostly in Detroit and Flint. They released several EPs, some which are lost media due to human error (sound engineer forgot to press record).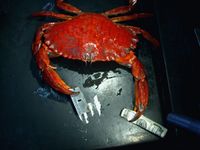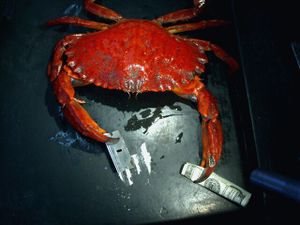 Probably the most difficult time for the band was when they were introduced to hallucinogenic drugs after an underwhelming show in San Francisco. A manager approached the members, giving them some of his drugs in order to cure their stage fright. But things have never been the same since then. While the band did go through a hyper-creative phase and pumped out 18 albums worth of material over the course of a month, they also split up multiple times. Kroeger described the band during this time as "a collective of wandering minds (...) they would come up to me and ask me if I was the Vietnam war." Suzuki was seen wearing a green sweater.
The band changed their name to "Orange Spiny Crab" around this time, after an incident which involved a crab mugging the members at knifepoint.
Current: Return to Normalcy
[
edit
|
edit source
]
In 2017, the members snapped out of their drug-induced coma and realized that they all had missed their 20th birthdays. They then had the genius idea of pretending that their 20th birthdays hadn't actually happened yet, and proceeded to act as if they were 19, including going on a drunk driving rampage in Japan, where the drinking age is 20. The result of their drunken debauchery is an album titled "Under 20", a testament to human hubris.
In 2018, Kanye West left the band citing creative differences.
In 2020, Kenshi Yonezu became guest vocalist for their new hit single "Sex Is in the Air" which hit #1 in 102 countries.
Suzuki Naoto, guitar (2012-)
Inagaki Goroh, vocals (2020-)
Yoko Ono, cash register (2016-)
Chad Kroeger, drums (2012-)
Coldrain, irrigation (2012-)
Yes, we're Virgins (2012)
Don't Call Me Back (2014)
Maybe Call Me Back (2015)
Under 20 (2017)
Science Class (2018)
Asia (2019)
Orange Spiny Club (2020)
Nominated for a Grammy nomination (2016)