Laura Bozzo
Jump to navigation
Jump to search
Laura Bozzo

¡¡Que pase el desgraciado!! Who would know this young college student would grow up to become the most powerful woman in Peru and later the first woman president in Mexico.

Scientific classification
Kingdom
Animalia
Phylum
Montesinos
Class
Infecta
Order
Infame
Family
Corruptae
Genus
Bestia
Species
Asmodeus Peruvianis
"¡Que pase el desgraciado!"
~ Laura Bozzo giving a warm welcome to one of her guest.
"I am not a señorita!"
~ Rosio Sanchez Azuara on why her guests keep thinking she's Laura Bozzo.
"Once again, Lady L has died in a tunnel in Paris.[1]"
~ CNN mistakenly reports the death of Laura Bozzo.
Laura Cecilia Bozzo Rotondo[2] (born August 19, 1951), better known by her stage name, the Señorita Laura[3] (Miss Lora), is a Mexican-exiled[4] Peruvian-born television host and philanthropist.[5] Born and raised in Peru, Bozzo pursued a career in television at an early age in her quest to promote Peruvian culture around the world and to bring awareness of the situation many Latin Americans find themselves in, particularly the people of Peru, at the time.
The Señorita Laura, as she is popularly referred to by her followers, graduated at the top of her class from the University of Peru. She currently holds several doctorate degrees[6] in several disciplines including sociology,[7] psychology,[8] criminal law,[9] family law,[10] tax law,[11] immigration law,[12] marketing,[13] television,[14] social development,[15] political science,[16] politics,[17] economics,[18] and until recently, Mexican culture.[19]
Following a devastating incident in which Bozzo remained under house arrest for several years after strong accusations of accepting bribes from then-Peruvian president Alberto Fujimori,[20] and maintaining ties with organized crime,[21] powerful drug traffickers and several politicians linked to corruption, abuse of power, and treason; Bozzo was stripped of her Peruvian citizenship and expelled from her country in exile and declared "a national insult" and "a Peruvian tragedy" by several Peruvian media sources as well as some international publishers.[22]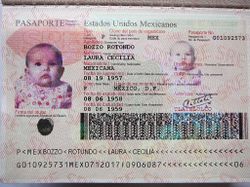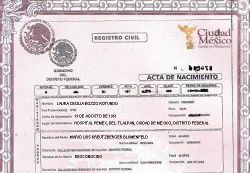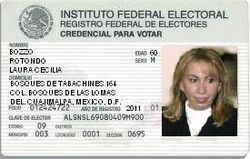 María Concepción de los Ángeles was born in Quito, Ecuador on August 19, 1951 to Chilean television host and womanizer Don Francisco,[23] a powerful Latin American household name famously known for being the co-host of Giant Saturday (Sábado Gigante) along Cuban superstar and radio host Javier Romero and until the year 2000, Lili Estefan, the niece of business mogul and top music artist Emilio Estefan (father of Emilio Estevez, who took a different variation of his last name to be distinguished from his father) and Gloria Estefan, sister of Madonna, who collaborated along with her to release The Pretty Island (La Isla Bonita). Lili Estefan went on to achieve international fame and fortune by teaming up with controversial paparazzo and journalist, Raoul the Fat of Mill (Raúl el Gordo de Molina). The mother of Laura Bozzo is unknown.[24]
Soon after her birth, the unknown mother of Bozzo, rejected by rising star Don Francisco, abandoned Bozzo during a short layover in Lima. Bozzo, still known as María, struggled through the harsh streets of the Peruvian capital, often pushing a device known as the carrito sanguichero, a more-or-less improvised version of a hot dog stand. Often the laughter of her classmates for selling sandwishes and hot dogs, Laura graduated with honors and vowed to help the oppressed people of Peru, even after years of humiliation received by her very own peers.
De los Ángeles went on to change her name to Laura Cecilia Bozzo Rotondo at the age of eighteen following a mix-up when she arrived to Los Angeles for the first time. Upon hearing a message on the airport's P.A. "Bienvenido a Los Ángeles" (Welcome to Los Angeles), Bozzo was under the impression that the airport was attempting to relay a message to her or was personally welcoming her to the city. To avoid future mishaps, upon returning to Peru, she changed her name.
Bozzo was given a unique oppportunity as the official spokesperson of Peru. As part of the deal, aside from a hefty salary, Peruvian television granted her an hour of prime-time airtime where she would have the opportunity to speak wonders of the country who adopted her as one of their own.
By the late 1990's, Bozzo was an established household name all over Peru and her international popularity was growing. Laura en América (Lora in America) was an Oprah-style talk show where Bozzo, still an unmarried woman, was given the nickname of the Señorita Laura (Miss Lora), and went around the most impoverished neighborhoods of the capital of Peru, seeking the least fortunate individuals to help them improve their quality of life.
By the year 2000, Bozzo was breaking records all over Latin America, including the Caribbean and the United States, taking off the charts popular shows by Cristina Saralegui and others, and imposing hers as the most popular talk show of all times. Her charisma, her generosity and her willfulness to go against all adversity and to challenge even the most powerful people in Peru in her quest to improving the lives of her people, made Bozzo a woman Pope John Paul II once defined as "Laura Bozzo always faithful," and even then-richest man in the world Bill Gates followed to say "If only she had the money I have, she'd do wonders. God Bless that woman and God bless the people of Peru."
Television networks outside Peru, including in Mexico and Venezuela, bombarded Bozzo with multimillion-dollar offers for her to leave Peru and pursue a much more money-rewarding quest in Mexico. However, Bozzo was committed to the people who had accepted her despite her physical impediments such as her accent.
Laura Bozzo came to scrutiny of the press when in 2002, she was accused of accepting several million dollars from Alberto Fujimori, then president of Peru.[25] According to documents released by Wikileaks, Fujimori asked Laura to convince her audience to vote for him in the upcoming elections. Bozzo, driven by Greed- Sam Greed, her chauffeur- showed up to Fijimori's office early in the morning while everyone slept. According to other documents provided by the CIA and other counter-intelligence agencies, Bozzo agreed to accept only a modest amount of Fujimori's offer (roughly $100 million) if she could donate a small percentage to her own charity fund so that even if the transaction leaked out, she could use in her defense that she only took the money "in the same manner that Robin Hood stole from the rich to give to the poor."
While this Fujimori-Bozzo scandal was taking form all over Peru, another scandal broke out where Bozzo was accused of having ties with Colombian guerilla group, FARC. She was accused of aiding in the kidnapping of several prominent political figures including Íngrid Betancourt. Bozzo denied all allegations including that she had ever met with President Fujimori and in an additional statement, she stated she had never met Fujimori in person and denied his existence altogether. When asked who she thought was the current president of Peru, she paused, tilted her head slightly towards her speechwriter, and then proceeded to state the following: "I am being framed by the people of Peru after everything I have done for this country. I am being betrayed by the very people I swore to protect and help. Damn you all, damn you!"
As a result of all accusations, Bozzo was placed under arrest and held on a million dollar bail. Unconfirmed sources say that upon hearing her bail amount, Bozzo muttered "Crap, I should have taken that Chinese's money sooner." Bozzo was thereafter corrected as Fujimori is not of Chinese descent but Japanese. As a recommendation from her lawyers, claiming that she was not a flight risk, Bozzo was placed on house arrest and allowed to continue working while the criminal investigation ensued. Her filming crew moved to her house where a temporary set was established from where she continued to film her show.[26]
After publicly attacking the people of Peru and more importantly, her own fans who fed her for many years, Bozzo's popularity plummeted. People all over country and the rest of Latin America, in fact, took to the streets to protest against her and demand that she be burned at the stake for the witch that she was!
After the lead prosecutor, the lead detective, the main witnesses, the judge, and several other key figures of the investigation against her mysteriously died, resigned, disappeared or sought political asylum in the United States, Bozzo was acquitted of all charges and set free. During her first apparition in front of the press, Bozzo said, "If O.J. can get away with murder, why can't I?" One journalist present asked, "So you have killed people and you are getting away with murder?" For which Bozzo replied, "You who murdered 500,000 Iraqis to save a nickel on a gallon of oil are going to lecture me about the rules of war? Don't!" Another journalist then said, "You are paraphrasing Gary Oldman from Air Force One. Why and how does that relate to you?" Upon this challenge Bozzo answered, "Fine! Which actor from which movie do you think better suits me?" The journalist that first questioned her replied, "Well, I think you come closer to James Caan in Eraser after he's coming out of the supreme court but I can't remember what he said." Bozzo proceeded to say, "Well, in that case I'm a free woman so deal with it. As to the people of Peru, you can all forget about me. I am moving to Mexico, land of the free and home of the brave, where I will pursue a career as a successful TV personality who helps the Mexican people. Adios suckers!!"[27]
After this incident with the press, the rage among the people ignited and Bozzo was stormed out of her mansion in one of the most affluent neighborhoods of Lima. She was flown by helicopter to a nearby air base where she was later flown by military aircraft to Costa Rica, with a short stop in Venezuela to refuel and to collect a payment from Hugo Chavez, the latter was not entirely confirmed, however.
Laurita's Way: Rise to Power
[
edit
|
edit source
]
Bozzo renounced to her Peruvian citizenship following her embarrassment and scandals. Her resignation came late, however, as the Peruvian government had already stripped her of her citizenship in a case of national disgrace where the government ordered to have all files and records that she had ever existed in Peru burned and erased. They wanted no memory of her existence. Her footage archived in the studios were set afire, including originals and all copies. Despite the government's attempt to erase Bozzo's sour memories from the minds of Peruvians, plenty of her videos had already prevailed on YouTube and her legacy lives on one flag down at a time.[28]
Bozzo spent some time in Miami, where she committed to a season with Telemundo, the second-largest Spanish-speaking television network in the United States, however, after Telemundo sold out to NBC, Bozzo left the network citing irreconcilable differences with the white man.[29]
Upon arriving in Mexico, Bozzo filed for Mexican citizenship. She was immediately granted her new citizenship without the requirement of at least two years of legal permanent residency as celebrities and renown artists are not required prior residency in the country nor assimilation of the country's culture as long as they will bring money to the corporate moguls sponsoring them.
As a new Mexican, Bozzo was again awarded a new contract to continue her lifelong devotion to the least fortune people, "mi gente" as she calls them in her own words. She later pursued her vision through TV Azteca, Mexico's second largest TV network and sworn enemy of Televisa. Televisa, having noticed Bozzo's potential years earlier when she was the greatest star in Peru, immediately gave her an offer she couldn't refuse. Realizing her growing potential and how much she could help the Mexican people, Bozzo took a seven-figure salary with the leading network and vowed to help the battered women in the country through the eye of her inescapable hidden cameras, her faithful staff of collaborators, including her on-set psychologist.[30]
Laura Bozzo pours millions of her own money to the needy people of Mexico. She travels cross-country on a late model Jeep Grand Cherokee visiting women who have been wrongfully accused of crimes and she works day and night until these women are freed.
It should be noted that Bozzo no longer gives out the infamous sandwich cart (carrito sandwichero) due to copyright issues as the TV network she formerly worked for in Peru holds the rights to the street-vending cart.[31]
Through her current show Laura de México (Lora of Mexico), Bozzo enters the homes of millions of people expanding her knowledge and wisdom to all those who seek it.[32] Bozzo is currently working hard to reduce poverty all over Mexico, something she tried to do in her native country of Peru (although she was born in Ecuador, she always acknowledged Peru as the country who saw her be born); however, her work in Peru was "sabotaged by the powerful and corrupt who control the country" as she publicly stated.
Today, Bozzo considers Mexico her own country[33] and denies Peru in all its forms.[34] She has publicly stated that she misses "absolutely nothing of Peru hopes the next U.S. invasion takes place there."[35]
Bozzo's unique style has made her a cultural icon.[36] "¡Que pase el desgraciado!" (Let the bastard in!) is a trademark of hers.[37] Bozzo has led to what has been coined as the Lauraploitation similar to the Bruceploitation that occured when Bruce Lee achieved international renown and even after his death. Many television shows imitate her. Mexican actress Consuelo Duval, daughter of American Hollywood veteran Robert Duvall, proudly imitates her and has acknowledged to have acquired certain aspects of her acting style from Laura Bozzo herself.
Bozzo's peculiar accent creates millions of hits on the Internet everyday from people all over the world searching for its origin and ways of imitating it.
… Laura Bozzo's talk show focuses on expanding Mexican culture around the world, a similar project she undertook years earlier in Peru?
… Laura Bozzo's hidden camera has aided in providing irrefutable evidence against the wrongdoers who come to her show?
…
 that while some have accused her show as being scripted, Bozzo reminds her viewers on a regular basis of the authenticity of its content and the people who appear therein?
[40]
… that if you pay attention at the end of the ending credits, a small print disclaimer reads "All words and actions depicted on this show by its participants are real to the knowledge of its creators?
Laura Bozzo has written several books and several others have been written about her: