1997 Australian Grand Prix
Jump to navigation
Jump to search
The 1997 Australian Grand Prix is an historic Formula One race which took place at the Uncle Albert Park circuit, somewhere in Australia, on March 0th, 1997.
Driver Information
[
edit
]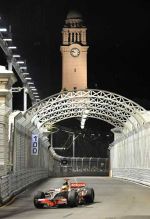 During the first three races of the 1997 season, one driver, competing for the Saudi-Petronas team, could not be identified for legal reasons. As such, several edits had to be made to the TV broadcasts. None of the driver's qualifying runs were aired, and the car was never directly featured or referred to in the race coverage. In the on-screen classification graphics, the space where the driver's name would have been was left blank, and commentators for the race also took care to never refer to the driver. Whenever reference was necessary, the driver was simply announced as "one of the Saudis" or, on one occasion, "the second Saudi". The driver's name was omitted altogether from the driver's championship tables, and other drivers were also warned against referring to the driver in interviews and press conferences.
When the driver was replaced from round 4 onwards by Italian driver Morbidelli Obese, usual coverage resumed. The name of the driver, who finished 8th in the opening race and retired from the next two, was never revealed. At a press conference in 2004, ex-team boss Pietra Saudi admitted he was never able to remember the driver's name himself, stating that it had been "lost in a mind-cleanse session as part of an ongoing medical procedure some years ago, for sure". This man was thought to be TV host David Dickinson until 2001, when he revealed in his autobiography that he was, in fact, the original Stig on TV series Top Gear prior to Perry McCarthy's "Black Stig". His character is currently known to everyone as "Orange Stig".
The identity of the driver was eventually revealed in 2009 to be the enigmatic Andorran driver Tchuh, a former competitor in the Global Rally Series who shot to fame in the early 90s. His real name is not known.
Qualifying
[
edit
]
This was the first qualifying session of the 1997 season, and already there was trouble. At the last second, the race was moved to a week earlier on the schedules, resulting in a mad dash by the ferries to take the cars across on time. This would unexpectedly lead to the first ever motorway F1 race, as they were the only things fast enough to reach the destination in time. Only one team, the Lolly team, didn't make it. As a result, Drivers Ricardo Tosser and Pierre Lousy were disqualified from the rest of the season.
Indeed, 20 minutes had already elapsed by the time the winners of the motorway race emerged on the track: the two McLovins of Hikeynen and Coulfard. Unfortunately, they only had time to do one flying lap each; they immediately left afterwards as the team had yet to book a hotel, and all the vacancies had nearly run out. The pit crew were forced to stay the night in a sleazy, roach-infested one star hotel that only served smatijoves in the diner. It was a day to forget for the McLovin team.
Meanwhile, topping the timesheets were the Miriam's cars of Jack Villanoovay (known as "Williams Numberone" at the time for licensing reasons) and team-mate Heinz Beanz-Frankzen, trouncing legendary F1 legend Micky Shoemaker. The big hero of the day, however, was reigning world champion Damnation Hill who, despite moving into a crappy car this year, managed to post the fourth fastest time of the day, much faster than his teammate Pedro Dinners, a lowly 14th. Though this was in part due to a technical error in which the timer failed to start until Hill was already three quarters of the way around the track. As a result, the FIA imposed a 30-second time penalty on the timer for race day. Hill's grid position stood.
In a post-session interview, a spokesperson for Afros said "For sure, Hill won the position fair and square and, for sure, the team is very proud of his achievement. For sure, they announced it already, so they can't take that back! It's official! Heh heh!" The timer was unavailable for comment, but was quoted as saying "For sure" anyway.
Qualifying Results
[
edit
]
| Pos | Driver | Nation | Team | Time |
| --- | --- | --- | --- | --- |
| 1 | Williams Numberone | CAN | Miriam's-Cosworth | 1:22.374 |
| 2 | Heinz Beanz-Frankzen | GER | Miriam's-Cosworth | 1:22.374⅛ |
| 3 | Micky Shoemaker | DEU | Ferrero Rocher | Quite Fast (But forgot to cheat) |
| 4 | Damnation Hill | GBR | Afros | Incorrect |
| 5 | Gay Hardburger | AUT | Benderson | 1:23.004 |
| 6 | Mikey Hikeynen | FIN | McLovin-McRenault | Faster Than Coulfard |
| 7 | David Coulfard | UK | McLovin-McRenault | Slower Than Hikeynen |
| 8 | Sid Kick | USA | Fererro Rocher | Had Brooklyn Rage |
| 9 | Barry Cello | USB | Stewpid | 1:23.218 |
| 10 | Oliver Pennis | FRA | Pist-Mugen | 1:23.288 |
| 11 | Alex Worse | EUR | Benderson | Crap |
| 12 | Hans Offmeinachers | GMY | Jobbin | 1:23.456789 |
| 13 | Johnny Sherbert | ENG | Saudi-Petronas | Hopeless |
| 14 | Pedro Dinners | BRA | Afros | Bloody Awful |
| 15 | Shinya Nakano | JAP | Pist-Mugen | 1:24.452 |
| 16 | Martin Brundlefly | BBC | Jobbin | Yes |
| 17 | Tchuh | AND | Saudi-Petronas | Unknown |
| 18 | Mike Hunt | AME | Stewpid | Who Cares |
| 19 | En Jin Failure | JPN | Alsö Rann | 0:37.623 (retired, engine) |
| 20 | Verri Baadätturnen | FND | Alsö Rann | 1:29 point Shit |
| 21 | Dundas Fyke | IRE | Minnow D | Default |
| 22 | Snayle Granville | ZZZ | Minnow D | Last Again |
On the day of the race, there was clear frustration on the face of Micky Shoemaker. Amidst the furious rush to reach the circuit in time to record a lap, Shoemaker felt that he did not have enough time to cheat his way to the front. Nevertheless, there was great anticipation as the cars lined up on the grid for the first race of the season. As the lights went out to signal the start of race, not a single car moved for 30 seconds (in light of the timer's time penalty the previous day). When they eventually got going, however, it was Numberone and Shoemaker who immediately stormed into a commanding lead, with Hikeynen not far behind. The obligatory first corner crash, this time caused by Damnation Hill's terrible start, took Coulfard, Cello, Pennis, Worse, Sherbert and Hunt out of the race. Hill managed to carry on, but was black-flagged a lap later for sticking two fingers up to the race stewards, something every F1 driver has dreamed of doing.
Meanwhile, Pedro Dinners unveiled his new livery made out of £50 notes. He couldn't start his engine, because no-one had developed an absorbent enough £50 note. However, he got in the regualar spare car. In 2005, this would be solved by Bounty tissues.
By the ninth lap, Numberone and Shoemaker had built a comfortable gap from the rest of the field. They did this by throwing out the hotel pillows from the night before. Hikeynen grabbed some of them on the way past and was overjoyed that he finally had something different than the lump of metal the McLovin team had rested on the previous night. Not much happened after, apart from Dundas Fyke's hilarious crash which also took out debuting backmarker Baadätturnen.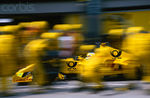 Following the first round of pit stops, Frankzen found himself in the lead briefly until he ran out of fuel, although the team described it as 'an unknown lack of enginey-movey stuff' (served him right for not pitting). It was still Numberone 5 seconds ahead of Shoemaker, followed by Hardburger, Kick and a now relaxed Hikeynen. Then, on lap 28, the inevitable happened. Shoemaker, with a then illegal jet booster in place, ate into Numberone's lead and flew past him on the Delboy straight, singeing him in the process. Despite a hard-fought race, Numberone couldn't get near him again.
Elsewhere, Pedro Dinners took an early second stop on lap 40 as he felt hungry. It was a relatively slow stop, which saw the pit crew take 25.6 seconds to order a pizza, partly due to a busy telephone line. Martin Brundlefly, unusually, came into the pits backwards after being shunted off there by the perennially slow Granville, who had been lapped 12 times at this point. When second placed Numberone pitted, he had a jet booster hastily fitted to his car in a last ditch attempt to catch Shoemaker by the end of the race. This initially left him two laps down, but it paid dividends as he made up 20 seconds in a single lap, easily overtaking Pist's Shinya Nakano (managed by Taki Inoue).
On lap 54, En Jin Failure retired with, surprise surprise, an engine blow-out. The Alsö Rann team were very disappointed as he was on course for sixth place and a point. Alas, his unbroken streak of 43.77 retirements was set to continue.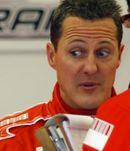 Finally, four laps from the finish, Numberone had made it back up into second place, though by that time Shoemaker had made up roughly the same amount of time so it didn't matter anyway. As the chequered flag dropped, it was a predictable win for Shoemaker, three laps ahead of the whole field, but a stunning comeback effort from Numberone to take a well deserved second place. Sid Kick rounded off the podium an even more distant third. Hikeynen, Hardburger and Brundlefly picked up the last of the points. Just as well, carelessly discarded on the road like that. If one of those things punctured a tyre, someone could have been hurt.
In a post race interview, an ash-covered Numberone told the press "I need a shower, now bog off." Shoemaker was quoted as saying "For sure, I won again. So what? It happens all the time these days." When asked about the jet booster feature on his Fererro Rocher, he answered "For sure, since only we are rich and powerful enough to run with the illegal boosting device, we will win easy. No problem, another championship. Woo hoo." Shoemaker was allegedly seen to backhand a sizeable wad of the local currency to an FIA official during this interview.
Determined to prove they weren't corrupt, the FIA banned Miriam's and all other teams from using jet booster devices on their cars, with the exception of Fererro Rocher. So began the road to another controversial year in Formula One racing.
Race Results
[
edit
]
| Pos | Driver | Nation | Team | Time | Points |
| --- | --- | --- | --- | --- | --- |
| 1 | Micky Shoemaker | DEU | Ferrero Rocher | 1:13:13.013 | 10 (1295) |
| 2 | Williams Numberone | CAN | Miriam's-Cosworth | +3 laps | 6 |
| 3 | Sid Kick | USA | Ferrero Rocher | +4 laps | 4 |
| 4 | Mikey Hikeynen | FIN | McLovin-McRenault | +4 laps | 3 |
| 5 | Gay Hardburger | AUT | Benderson | +4 laps | 2 |
| 6 | Martin Brundlefly | BBC | Jobbin | +4 laps | 1 |
| 7 | Hans Offmeinachers | GMY | Jobbin | +4 laps | |
| 8 | Tchuh | AND | Saudi-Petronas | +4 laps | |
| 9 | Pedro Dinners | BRA | Afros | +4 laps | |
| 10 | Shinya Nakano | JAP | Pist-Mugen | +5 laps | |
| 11 | Snayle Granville | ZZZ | Minnow D | Not Really Classifiable | |
| | En Jin Failure | JPN | Alsö Rann | Not Classified | |
| | Heinz Beanz-Frankzen | GER | Miriam's-Cosworth | Not Classified | |
| | Verri Baadätturnen | FND | Alsö Rann | Not Classified | |
| | Dundas Fyke | IRE | Minnow D | Not Classified | |
| | David Coulfard | UK | McLovin-McRenault | First Corner Crash | |
| | Barry Cello | USB | Stewpid | First Corner Crash | |
| | Oliver Pennis | FRA | Pist-Mugen | First Corner Crash | |
| | Alex Worse | EUR | Benderson | First Corner Crash | |
| | Johnny Sherbert | ENG | Saudi-Petronas | First Corner Crash | |
| | Mike Hunt | AME | Stewpid | First Corner Crash | |
| | Damnation Hill | GBR | Afros | Disqualified | |