UnNews:Trump attacks 'mainstream Madea' in misspelled tweet
Thursday, December 14, 2017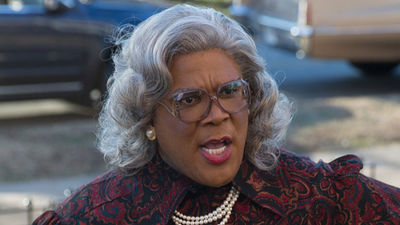 WASHINGTON -- 45th* President* of the United States and Cheeto-colored Oompa-Loompa Donald Trump on Wednesday posted a baffling tweet in which he ranted about a popular character created and portrayed by the whitest black filmmaker in Hollywood, Tyler Perry.
Let's see if you can make a lick of sense out of these 242 characters.
Donald J. Trump
@realDonaldTrump

Wow, more than 90% of Fake News Media coverage of me is negative, with numerous forced retractions of untrue stories. Hence my use of Social Media, the only way to get the truth out. Much of Mainstream Meadia has become a joke! @foxandfriends
5:02 AM - 13 Dec 2017
       21,844     88,702

Nowhere in that tweet did Trump spell "Madea" correctly. It almost looks like he's attacking the mainstream media, until you take a closer look. It could be "media" or "Medina" (as in Tone Loc's "Funky Cold Medina"), but upon re-reading, it is quite evident that the Complainer-in-Chief is referring to Perry's gender-bending alter ego whose credits include the mildly funny but usually boring Diary of a Mad Black Woman, Diarrhea of a Mad Black Woman, Madea's Family Reunion, Madea Goes to Jail, Madea Goes to Camp, Madea Scared Stupid, Madea Tries to Get Out of Jury Duty and Boo! A Madea Halloween. Perry's movies (with or without Madea) usually average 10 to 30 percent Rotten on Rotten Tomatoes.
Trump saw what happened in Alabama and is desperate to attract black voters. And what better way to do that than to tap into black culture. What do black people like more than anything in the world? Jazz, the Blues, Miles Davis, Obama, Oprah, Beyoncé, Samuel L. Jackson, Spike Lee... and Madea. Madea is popular with blacks in the same way that NASCAR is popular with white rednecks. Whether the Madea character is mainstream or not is debatable, but s/he has his/her niche. And it appears Trump has kinda-sorta found it. Too bad he's enormously unpopular and has no chance of being re-elected. In fact. he has a much better chance of resigning or being impeached. One thing he has in common with Madea is that he may end up going to jail, too.
Perry, who we are certain didn't vote for Trump, has yet to respond.
Sources
[
edit
]