User talk:Odysseus
Jump to navigation
Jump to search
Welcome to Uncyclopedia.
[
edit
]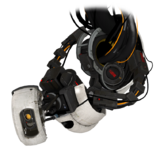 Hello Odysseus, and thanks for joining Uncyclopedia. If you are a non-employee who has discovered this facility amid the ruins of civilization, welcome! And remember: Humor is the future, and the future starts with you.
Before editing further, please look over our Beginner's Guide. If you want to find out more about Uncyclopedia or need help with something, check out the following pages:
If you need more help, drop me a line on my talk page. When writing messages, please sign your name with four tildes (~~~~). Our robots will automatically produce your name and the date.
Good work getting this far, future-starter! That said, if you are simple-minded, old, or irradiated in such a way that the future should not start with you, please return to your primitive tribe and send back someone better-qualified for comedy. Good luck!
→

L A B O R A T O R I E S 06:23 19 March 2019
Awesome work on that William The Conqueror article! Feel free to change anything that I changed, I just felt like I could do a bit of fixing to make it a bit more coherent!---[[user:WohMi]], the best damn duelist on this website (talk) 17:34, 30 November 2020 (UTC)-WohMi