Uncyclopedia:Press Release - closure of Fandom mirror
Jump to navigation
Jump to search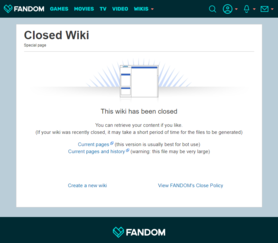 5/23/2019 – Uncyclopedia extends a warm welcome to all editors and readers joining us from Fandom.
Uncyclopedia began in 2005 when it was founded by Jonathan Huang (known as Chronarian) and a user named Stillwaters. It was originally located at uncyclopedia.org before Huang sold the domain to Fandom, formerly Wikia, a San Francisco-based wiki hosting service founded by Wikipedia founder Jimmy Wales.
On January 3rd, 2013, Uncyclopedia and its community announced a departure from Fandom, citing the platform's persistent lack of communication with the Uncyclopedia community regarding major policy changes over the years that resulted in the loss of tenured contributors. This departure coincided with the community's decision to migrate to Uncyclomedia, a network of parody wikis operated by longtime Uncyclopedia administrators and MediaWiki volunteers. As such, Uncyclopedia has been located at uncyclopedia.co since 2013.
In the years following this migration, Fandom has maintained an outdated mirror of Uncyclopedia located at uncyclopedia.wikia.com, resulting in a group of stewards forming after the departure of the community. On February 26th, 2019, Fandom staff announced the impending closure of the mirror, citing problematic content deemed unsuitable for Fandom's advertisers, which provide most of the platform's revenue. Consequently, contributors of the Fandom mirror voted to rejoin the original Uncyclopedia community hosted here at Uncyclomedia. An announcement from their administration regarding this decision was published at the mirror on March 24th, 2019, and can be read in part as follows:
"By a two vote majority, Uncyclopedia.wikia will now be hosted by Uncyclomedia. The vote conducted over the past week is now closed. A back-up of this site can now be authorised."
— Romartus, administrator on the Fandom mirror. Published here in full.
As such, Uncyclopedia is very pleased to welcome everyone migrating from Fandom. To prepare for this, the Uncyclopedia community located at en.uncyclopedia.co has voted to adopt all administrators migrating from the Fandom mirror, thereby ensuring a smooth transition.
In addition to the union of the English Uncyclopedia projects under the Uncyclomedia umbrella, several foreign language projects departing Fandom have also voted to migrate to the network. These projects include:
While a number of independent copies of Uncyclopedia continue to operate using content written by Uncyclopedia's contributors under a Creative Commons License, the joining of these wikis marks a significant achievement in unifying many Uncyclopedia projects together as part of the Uncyclomedia network.
Helpful links
For anyone joining this wiki from Fandom, we strongly advise you to read through some of our guidelines and general pages of importance.
If you require any further assistance, we maintain a list of active administrators at here, all of whom would be more than happy to help.
Uncyclopedia also has an official Discord server, where most of our admins and users are routinely present. Any user with an account on Uncyclopedia can join.