UnNews:You're fired
Jump to navigation
Jump to search
Sunday, April 8, 2018

Disable
Enable all
Disable all
Always enable
Always disable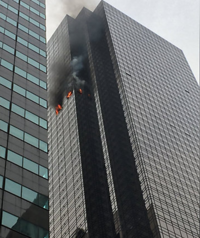 FIFTH AVENUE, New York City -- Donald Trump is apparently unhappy with the staff at Trump Tower. He has fired staffers at the 50th floor of his namesake monolithic skyscraper.
"You're fired! You're all fired!" Trump screamed to five employees. One of them was killed in the incident while the rest suffered minor injuries. Trump was at his Tower rather than the White House in order to destroy evidence of Russian collusion ahead of his planned rendezvous with Mueller.
Trump had sent two pink slips to the employees before running out. He then took matters into his own (tiny) hands. He poured gasoline all over the 50th floor and lit up a big, fat, fancy Cuban. KABLAM! Then he disappeared in a cloud of magician's smoke.
Trump has been firing people left and right, even before taking office as President* of the Divided States United States. From 2003 to 2017, he was the host of NBC's The Apprentice, where his catchphrase was "You're fired!"
UnNews sends its condolences to the fired employees while gleefully roasting the Pig-in-Chief, who should be impeached any day now.
Sources
[
edit
]