UnNews:Used panties vendors in Japan accused of ingenuine product
Jump to navigation
Jump to search
1 December 2008

SAITAMA, Japan – Elementary school teacher Hiroki Nabeshima has more than unruly students causing him grief these days.
The 42-year old husband and father of two's weekly Friday routine sees him stop by a local vending machine from which he purchases what he calls his "reward" for a week's hard work – used women's panties.
These lightly soiled female undergarments are a veritable grab bag of stains, wet spots and odorous chunks in a plethora of colors and fabrics, preserved in vacuum packs to maintain their "off-the-body" temperature. Said panties are purchased by men like Nabeshima in the thousands every week, with near uniform quality in each pair nationwide.
Uniform quality, that is, until recent.
"The scent of the last few I've purchased have been vastly inferior. I can only suspect intentional doctoring at hand."
Nabeshima points out a fecal streak found near the crotch of a pink pair decorated with Hello Kitty.
"First of all, the poostain is not located anywhere near the convex asscrack wrinkle, and it smells much more like fermented stag beetle paste than 15 year-old virgin anal emission." Nabeshima produced a tube of low calorie fermented stag beetle paste from his pocket and squirted some onto his index finger, allowing me to smell it, and then the poostain for comparison. Indeed, the similarity was striking.
Hiroki Nabeshima is but one of many men across the Japanese archipelago up in arms about alleged "untainted briefs" over the past few months. Customer service phone numbers printed on the dispensing machines have been bombarded with purchasers suspecting unnatural product and demanding explanation. Statistics provided by Japanese industry research firm Mitsubachi show that vending machine sales of used female undergarments have diminished rapidly over the last three months, sinking its sales ranking to below Squid Pancreas Pocky and just above Diet Coke.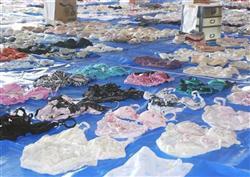 Due to the clandestine conditions under which the production and packing of used women's underwear is done, Japanese consumers have no choice but to trust the manufacturers for quality standards. With the outburst of claims coming up nationwide, enthusiasts are starting to believe that indeed something foul is afoot. Many surveyed men suspect artificially produced warmth and bodily function remains, along with possible outsourcing to mass production facilities in China, which also brings into play nationalistic sentiment.
"I don't care if they even use real Chinese girls." replies one surveyed man (age 40). "If I wanted to sniff some chink's twat I'd go to a massage parlor downtown and snort up a whiff of the real stuff for almost the same price."
In response to the mounting outrage, leading used underwear company Kawaii Happysniff Corporation has made a press release via official website affirming that all products of the company are in fact "made" by "healthy, vivacious Japanese women between the ages of 12 and 24."
However, this has done little to quell the deep-rooted consumer suspicion, causing some men's groups to demand the Japanese government to install a used women's underwear product quality inspection bureau for all items to be sold in vending machines. A ballot initiative on this is awaiting public vote and apparently gaining stronger support in competition with a separate proposal that would provide orphaned children with influenza and tuberculosis vaccine at no cost.
When asked about the chances for beating out the orphan proposal, Nabeshima says "I can only hope that people look deep into their hearts and make the right choice."
Sources
[
edit
]