UnNews:That one I didn't fuck - Woody Allen
Jump to navigation
Jump to search
8 February 2014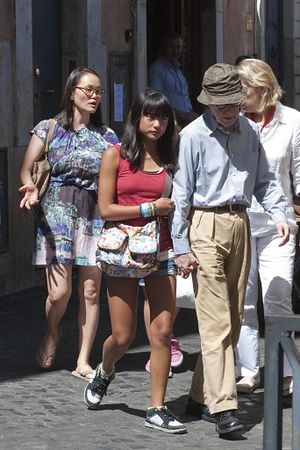 Woody Allen has struck back against allegations he molested Dylan Farrow, declaring, "That one I didn't fuck."
The film director cast himself in a New York Times article as the persecuted victim of his former partner, Mia Farrow, who was "bent on revenge" over the "whole naked-pictures-of-her-adopted-daughter thing."
"The Asian one, yes," Allen wrote, in reference to his wife Soon-Yi, the adopted daughter in question. "But Dylan in the attic with the train set? No, I-I-I am absolutely claustrophobic. This one time I *cough* I was locked in a bagel shop in Greenwich village and the authorities found me passed out under a mountain of salami [More Jewish New York schtick redacted]."
Meanwhile, Esquire magazine has pored over Allen's work since Dylan's open letter to the New Yorker was published, detailing the allegations.
While award-winning journalist Stephen Marche focused on the recurring them of older men and younger women engaging in relationships in pictures such as Manhattan and Whatever Works, UnNews is looking into the specific possibility that Allen's writing about making love to a sheep in Everything You Always Wanted to Know About Sex (But Were Afraid to Ask) implies that he must have fucked one in real life too.
Sources
[
edit
]