UnNews:Taliban name Mike Ditka as new leader
Jump to navigation
Jump to search
Wednesday, May 25, 2016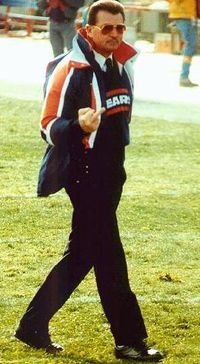 The Afghan Taliban have announced that former Chicago Bears head coach Mike Ditka will take over as their new leader to replace Mullah Akhtar Mansour, who was killed in a US drone strike.
The 76-year-old Pennsylvanian, who led the Bears to glory in Super Bowl XX, was a surprise candidate for the role.
The Taliban had been expected to prefer hardline religious scholar Akhundzada for the top job, but Ditka was said to have impressed with his uncompromising analysis on ESPN during the last NFL season.
Mansour, who was killed in a strike on his car in Pakistan's Balochistan province on Saturday, refused to take part in peace talks with opposing forces. According to foreign affairs expert Joanna Corey, it is too early to say whether they believe Ditka's Taliban will be any more open to negotiation.
"One thing's for sure," Corey told us, "Their defense is sure to get better."
Ditka has been recorded making inflammatory speeches about the west in the past, but generally qualified his comments by referring specifically to the "NFC West" or the "AFC West".
Bears legend Jim McMahon has tweeted about the issue, saying he was "Not totlly [sic] surprised" to find his one-time head coach had taken over one of the world's most notorious terrorist organizations. However, his former teammate William 'The Refrigerator' Perry was said to be much more distraught over the news, with his family revealing that he had taken to comfort eating.