UnNews:SETU finds unintelligent life
Jump to navigation
Jump to search
17 December 2006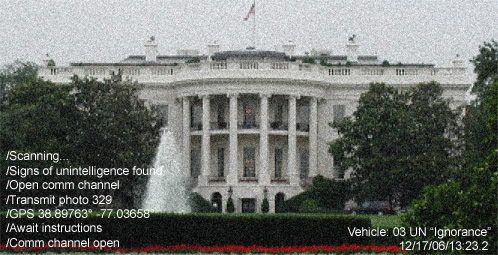 SETU OPERATIONS, U of Arizona -- SETU, the Search for Terrestrial Unintelligence, has announced preliminary success. Despite the failure of the Stupidity and Oblivion missions, the Unintelligence Navigator probe Ignorance gathered high unintelligence readings and sent this photo back to researchers. Although the photograph is grainy, the facade of a white structure can be detected. "We don't think that the photograph shows the creature directly," said SETU head Stacy Spacey. "Instead, it is probably much smaller and concealed inside the unidentified structure. But we know it's white and we think it's a house."
Still, the team is optimistic. "This represents the first great breakthrough in unintelligencology," continued Spacey. "We're hoping Ignorance will continue to send us photos. The unintelligence readings are off the scale."
The U.S. or "Unintelligence Scale" is a value corresponding to the number of times the lifeform in question does something utterly moronic before stopping to reconsider its options.
When asked about the degree and type of unintelligence waves emitted from the structure, Spacey responded that it "appears to be such complete and utter unintelligence that, if we we ever to attempt a manned mission, we'd need biosuits. But the earliest possible intervention is early 2009."
Sources
[
edit
]