UnNews:Rep. Taylor Greene informs police she does not understand jokes
Jump to navigation
Jump to search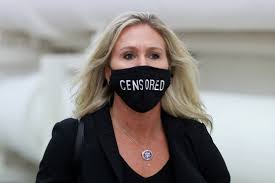 April 7, 2022

WASHINGTON, D.C. — U.S. Representative Marjorie Taylor Greene (R-GA) said she called the U.S. Capitol Police to inform them she does not understand jokes. The operator's first reaction was confusion, questioning why anyone would ever feel the need to make such a call. The congresswoman said she felt compelled to call the Capitol Police after watching Jimmy Kimmel's monologue last night. "Jimmy said something about me and then he referenced the Will Smith keeping it real slappy thing, but, I mean, that's like so last week, I just don't get how anyone could think that's a joke, but like everyone was laughing," Taylor Greene added.
The operator continued, attempting to learn why Taylor Greene would want to call the police over such a matter, and the congresswoman assured the operator she simply felt that her inability to understand jokes was relevant information that law enforcement should have. Per standard operating procedure, the operator asked if Taylor Greene felt harmed or threatened in anyway, to which the congresswoman replied, "Oh, no, I don't care about threats of violence, in fact I make them myself all the time."
Congresswoman Taylor Greene has received bipartisan support on this issue. Across the aisle, Senator Catherine Cortez Masto (D-NV) and Congressperson Alexandria Ocasio-Cortez (D-NY) issued a joint statement saying, "We've always applauded our fellow progressive feminist's use of her maiden name before her married name, something we're sure her conservative husband greatly appreciates, and we agree with her wholeheartedly on this one. Will Smith slappy jokes are sooo ten days ago."
Jimmy Kimmel has responded to the controversy and apologized for delivering what he called subpar comedy that he knows was not his best work. He started his next monologue by saying, "I want to sincerely and deeply apologize for all the confusion caused by my obviously poorly timed joke. As usual, I agree with Marjorie Taylor Greene, and Will Smith slappy time jokes indeed are already more cliché than hashtags and humble brags. Perhaps it's about time I teamed back up with Adam Carolla. Everyone knows I was always his Robin anyway."
Sources
[
edit
]