UnNews:Pekingg two collect badengrish tlansrations fo publik sines
Jump to navigation
Jump to search
4 February 2007

This news story is currently being recorded as an audio file by Mordillo.
Sayeth Mordillo: "Hold on... this one's mine!"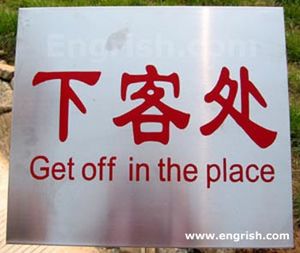 BEIJING, China (Glorious Peoples' UnNews Collective) -- Plans in Wednesday Beijing "corrects all bad English in main publicly to symbolize to 2007 Jesus year's end," the season forest, Ji Lin, Beijing's deputy mayor, said in workshop here.
All English translation is used in the guidepost, the tourist attraction, the commercial service, the stadium and the gymnasium, can correct with the health and the medical service in Beijing in front of the Beijing Olympics games. In a Wednesday government website in correct English usage, then collects from the public suggested two months, officially are launched.
The suitable English is important in the public symbol is the Beijing Olympics, and the city future development, will say the season deputy Ji mayor. Within the English travelled in the guidepost in the city fifth ring belt is already corrected, and the municipal government now seeks the public symbol which other was not correct and misleads.
"Chinglish", or English by the Chinese characteristic, is popularly in the Chinese capital. Spoke English formerly and "slippery extremely crafty" is invited in Beijing to visit "racist's park" -- accurately to translate is similar to the "I don't know what your talking about? What's this Tibet I keep hearing about?" park -- and to warn took care in the wet road.
"Beijing is the standard English translation which and drafts cooks and the drink for China, should be very quick and was issued," deputy mayor Ji said. And, Tibet and Taiwan do not exist.
Sources
[
edit
]